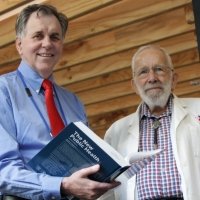 Wednesday, 29 November 2017
The University of Western Australia's Medical and Dental Library has been renamed the J. Robin Warren Library following a $7 million transformation and refurbishment.
The Library, located on the UWA Health Campus, adjacent to the Queen Elizabeth II Medical Centre in Nedlands, was formally opened this morning by Western Australian Health Minister Roger Cook.
Professor (John) Robin Warren was a co-recipient, with Professor Barry J Marshall, of the Nobel Prize for Physiology or Medicine in 2005 for their discovery that stomach ulcers were caused by the bacteria Helicobacter pylori . Both Nobel Laureates now have a library at UWA named after them: the UWA Science Library was named the Barry J. Marshall Library in 2015.
The J. Robin Warren Library has been transformed from a traditional library into a technology-rich learning space for students, academics, alumni and the community.
Pro Vice-Chancellor and Executive Dean of UWA's Faculty of Health and Medical Sciences, Professor Wendy Erber, said it was fitting that the new library should be named after Professor Warren.
"Professor Warren's discovery, together with Professor Marshall, changed the practice of medicine.  He is an inspiration to medical students at UWA and around the world," Professor Erber said.
"Along with Professor Barry Marshall, he defied his detractors, dedicating himself to prove a theory that resulted in greater health outcomes for millions of people.
"We know that students at UWA will continue to be inspired, working and studying in an educational facility named in his honour."
UWA Vice-Chancellor Professor Dawn Freshwater said it was appropriate that the J. Robin Warren Library should be opened during the UWA Medical School's 60th anniversary.
"The University started training medical professionals in 1957 after an extraordinary public fundraising effort that saw the general public donate a staggering £400,000 – around $18 million in today's money – to provide medical graduates for the WA community," Professor Freshwater said.
"The opening of this world-class library continues that strong connection with the community as the public will be welcome to use its facilities seven days a week."
Professor Warren said he was honoured to have the library named after him.
"To have my name at the entrance of such an important building is a real thrill and I hope that my work, alongside my colleague and friend Barry Marshall, will inspire tomorrow's health professionals to go that extra step – to back themselves and rely on their research," he said.
Media references
David Stacey (UWA Media Manager) (+61 8) 6488 3229 / (+61 4) 32 637 716
Tags
Channels

Awards and Prizes — Events — Media Statements — Research — Science — University News

Groups

Faculty of Health and Medical Sciences — University Library