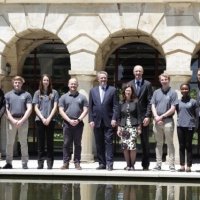 Friday, 3 November 2017
The University of Western Australia today received a major industrial software investment from the global technology company Siemens to help students develop the skills needed for the highly digitalised world of the future.
The $447 million grant will give UWA students and academics access to global, cutting edge technology, used by some of the world's leading companies, and help boost local innovation, particularly in industries important to Western Australia, such as energy, engineering and shipbuilding.
The Siemens software grant will also be used to help establish the LNG Futures Facility, a national resource based on a fully functioning LNG plant that will provide an entirely new training capability for tomorrow's workforce.
The grant will allow the UWA-led research consortium working on the LNG Futures Facility to explore its design and operation and the specialised software will enable researchers to create a virtual twin of a physical LNG plant.
Lead researcher UWA Professor Eric May from UWA's Centre for Energy said the software grant will allow UWA to deliver education across all engineering disciplines in a completely new way.
"In the area of natural gas processing, which is incredibly important to our state, it will allow Australian innovators access to facilities essential for technology development," Professor May said.
"Such capabilities will help transition Australia's resource industries beyond the export of raw materials and into the delivery of knowledge, expertise and innovation."
UWA Vice-Chancellor Professor Dawn Freshwater said the software grant from Siemens was a remarkable contribution to the education of UWA students, now and into the future.
"UWA wants to enhance its reputation as an institution of tomorrow; a place that empowers and equips students for the careers of the future." Professor Freshwater said.
"I would like to thank Siemens for their generosity and foresight in providing this opportunity."
Media references
David Stacey (UWA Media and Public Relations Manager) (+61 8) 6488 3229 / (+61 4) 32 637 716
Tags
Channels

Business and Industry — Media Statements — Students — Teaching and Learning — University News

Groups

Faculty of Engineering and Mathematical Sciences — UWA Forward