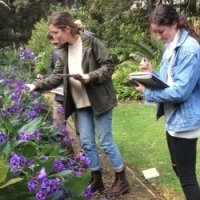 Thursday, 2 November 2017
Citizen science projects, such as ClimateWatch, could be used to boost engagement in undergraduate courses, according to a new study by researchers at The University of Western Australia.
The study, published today in the journal PLOS ONE , examined the use of ClimateWatch among UWA's first-year biology students and found it improved their interest and engagement in their local environment.
Citizen science projects usually involve the collection of data by a team of volunteers for use in scientific research.
ClimateWatch was developed by Earthwatch Australia, the Bureau of Meteorology and the University of Melbourne to understand the effects of climate change on phenology – the timing of biological events – and how these are influenced by climate variations.
Lead author Dr Nicola Mitchell, from UWA's School of Biological Sciences, said the researchers surveyed 1500 students before and after they completed the citizen science project.
Students were asked to use the ClimateWatch smartphone app and website to monitor plants, animals, fungi or algae for potential changes in their life cycles and/or their distributions as the climate changed.
The students also wrote a journal article based on a national citizen science data set that focused on a species' potential response to climate change, the validation of citizen science datasets, or a combination of both topics. The best articles were published online in a student journal.
"Our research reveals that university students care more about providing quality data to citizen science programs if they are engaged in research on the data sets," Dr Mitchell said.
"Becoming a scientist involves so much more than memorising facts. Doing research in the 'real world' is an excellent way for students to learn and citizen science provides many opportunities.
The researchers found the project significantly contributed to phenological data on Australian's species, with about two-thirds of ClimateWatch's records between 2011 and 2014 coming from students enrolled in universities.
It also greatly contributed to environmental engagement for the students since the majority (55 per cent) planned to continue collecting data after the project was finished.
"Students also learned how to analyse, present, interpret and publish their phenological and distributional data as part of their studies, and the 150 student publications resulting from the program are testament to their discoveries," Dr Mitchell said.
The researchers aim to continue refining the program at UWA, and to encourage more researchers to work with university citizen scientists to improve data quality.
Media references
Dr Nicola Mitchell (UWA School of Biological Sciences)                                           (+61 8) 6488 4510
David Stacey (UWA Media and Public Relations Manager)       (+61 8) 6488 3229 / (+61 4) 32 637 716
Tags
Channels

Media Statements — Research — Science — Students — Teaching and Learning — University News

Groups

Science Matters — Teaching and Learning — UWA Institute of Agriculture