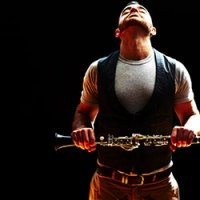 Wednesday, 25 October 2017
The University of Western Australia's Churchill Fellow has performed an unexpected and experimental music event as part of this year's Fremantle Festival.
Clarinettist Ashley William Smith, Head of Winds and Contemporary Performance, performed his show Risk Taking in the padded Cell Room at Fremantle Arts Centre, historically known as the Fremantle Lunatic Asylum.
Smith said this claustrophobic performing space was the perfect environment to blur the lines between performer and spectator.
"The Cell Room already has an extremely uncomfortable and haunted atmosphere. With 50 spectators and a musician performing around them mere centimetres away, it really was a completely unique experience," Smith said.
In a merging of a classical music recital with theatre, Smith used costume, storytelling, video, and electronic soundscapes to create characters and environments.
"I wanted to take the audience on a journey and flip their ideas of the traditional classical recital experience," he continued. "Gone are the days of the tuxedoed musician and the darkened concert hall. Experimental performance is about risk; risk in repertoire, presentation, and creating new experiences for audiences. The inspiration here was David Bowie and Madonna; pop musicians are so much better at taking a risk than classical musicians – and the risk pays off."
Smith is an internationally demanded clarinet soloist, recitalist, and chamber musician. 2017 has seen Smith perform at several international music festivals in the USA and Asia, as well as directing orchestras and chamber music ensembles both domestically and internationally.
As well as receiving the Churchill Fellowship, he has been awarded several of the classical music industry's most prestigious prizes, including the APRA Performance of the Year, the Music Council of Australia Freedman Fellowship, and an ABC Symphony International Young Performer Award.
Media references
Alexandra Wingate (Faculty of Arts, Business, Law and Education)
(+61 8) 6488 5597
Tags
Channels

Arts and Culture

Groups

Faculty of Arts, Business, Law and Education