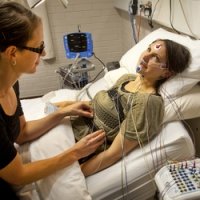 Monday, 16 October 2017
Treating sleep disorders, improving the mental health of Australian young people and reducing and preventing the incidence of stroke are among the research projects at The University of Western Australia to receive almost $4 million in funding through the National Health and Medical Research Council (NHMRC) fellowship schemes.

Professor Peter Eastwood, head of UWA's Centre for Sleep Science was one of two UWA staff members awarded $640,210 for Research Fellowships. Professor Eastwood's fellowship will focus on research to diagnose and treat sleep disorders nationwide.

Sleep disorders cost the Australian economy more than $10 billion a year with 7.5 million Australians suffering from one of 95 different types of sleep disorders, including insomnia and restless leg syndrome.

Together with a team from the West Australian Sleep Disorders Research Institute at Sir Charles Gairdner Hospital, Professor Eastwood hopes to develop new ways to understand the prevalence of, diagnose, and treat sleep disorders, particularly in young adults.

Treatments currently available for particular sleep disorders, such as sleep masks for sleep apnoea patients, are often uncomfortable and not tolerated by half of those suffering from them.

Professor Eastwood said in a global move towards individualised medicines, the research team was looking at tailored treatments, including a modified lifestyle and alternative therapies, to improve sleep.

"Sleep disorders have historically been difficult to diagnose as patients need to physically visit a sleep centre and so the national figure is likely to be vastly understated," he said. "By correctly diagnosing patients' sleep disorders we can better understand how they interact with other illnesses and recommend the most appropriate remedy."

Professor Trevor Mori, senior principal research fellow in UWA's Medical School, will use his $640,210 research fellowship to investigate the mechanisms and preventative strategies to alleviate the burden of cardiovascular disease.

Professor Graeme Hankey from UWA's Medical School was awarded a $577,188 Practitioner Fellowship to run clinical trials into the treatment and prevention of stroke.

An internationally recognised expert in acute stroke and stroke prevention, Professor Hankey has contributed a lifetime of related research and overseen significant reductions in stroke incidence in Australia over the past 25 years.

Professor Hankey said one study would examine individuals who had experienced a recent stroke to determine whether a safe and widely available pharmacological therapy (called fluoxetine) could help their recovery.

"The funding will enable me to spend more time conducting clinical research that could lead to reductions in stroke-related disability, the prevention of recurrent and first-ever stroke, and a reduction in the substantial and increasing burden of stroke," Professor Hankey said.

Early Career Fellowships were awarded to: Dr Edward Fysh, $340,891 to improve management of fluid in the lungs; Dr Luke Garratt, $318,768 to determine white blood cell plasticity in early cystic fibrosis lung disease, Dr Rishi Kotecha, $340,891 towards treatment of acute lymphoblastic leukaemia in high-risk infants; Dr Christopher Brennan-Jones, $286,891 to tackle chronic ear infection and its impact on children; and Dr Tim Rosenow $318,768 for imaging in paediatric lung disease.

Dr Ashleigh Lin was awarded a Career Development Fellowship of $431,000 to improve the mental health outcomes of young Australians.
Media references
David Stacey (UWA Media and Public Relations Manager)   (+61 8) 6488 3229 / (+61 4) 32 637 716
Tags
Channels

Awards and Prizes — Media Statements — Research — University News

Groups

Faculty of Health and Medical Sciences — School of Medicine and Pharmacology