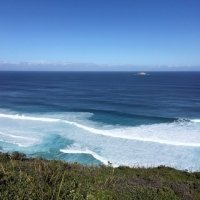 Friday, 6 October 2017
WA's renewable energy future has received a boost with the State Government awarding $3.75 million to The University of Western Australia to establish a new wave energy centre in Albany.
The Wave Energy Research Centre will put Western Australia at the forefront of offshore renewable energy research and technology and help increase our knowledge and understanding of wave, tidal and offshore wind energy.
The State Government funding will be provided over four years and bring together more than 30 researchers from UWA and multidisciplinary experts to support Carnegie Clean Energy to commission wave energy converters in Torbay, 20km west of Albany. It also includes collaboration with Western Australian wave energy developers.
UWA Vice-Chancellor Professor Dawn Freshwater said the University was pleased to play a lead role in the project, working with government and industry leaders to expand WA's knowledge and use of renewable wave energy.
"The University is a global leader in offshore engineering, with world-class geotechnical and hydrodynamic laboratory facilities at both the Albany and Crawley campuses, so is well placed to coordinate research and technology into renewable wave energy," Professor Freshwater said.
"University researchers will bring expertise in areas such as offshore engineering, oceanography, marine biology, marine planning and management, marine policy and law, commerce and economics. The UWA Albany campus will work in collaboration with researchers at UWA's Crawley campus."
Professor Christophe Gaudin from UWA Centre for Offshore Foundation Systems and UWA Oceans Institute, said it was widely recognised that renewable wave energy would play an increasingly important role in the future of global energy.
"Unlike oil and gas, the technology for offshore renewable energy is in its infancy," Professor Gaudin said.
"However Western Australia's southern coastline holds one of the most promising wave energy resources in the world and is the perfect location for developers to demonstrate the performance of their devices.
"In this project, we will look at modelling wave resources in Torbay, investigating the environmental impact of wave energy converters and optimising the performance of converters while reducing the cost of infrastructure.
The project will also include some field work in Albany that will be undertaken from the newly established centre, next to the UWA Albany campus which will host researchers and students."
Work is expected to begin on the project at the end of 2017.
Media references
Jess Reid (UWA Media and PR Adviser)                                                                        (+61 8) 6488 6876
Tags
Channels

University News

Groups

Centre for Offshore Foundation Systems — Great Southern — Oceans Institute — Regions — Science Matters — The Albany Centre