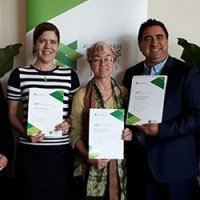 Tuesday, 3 October 2017
A French lecturer at The University of Western Australia has won a prestigious national teaching award.
Dr Bonnie Thomas, Convenor of French Studies, was cited in the Federal government's 2017 Australian Awards for University Teaching for her outstanding contribution to student learning.
Dr Thomas said the award recognises her empathetic, caring, and intuitive approach to teaching languages.
"Languages are above all about communication and interpersonal relationships. For this reason, the personal touch lies at the heart of my teaching," Dr Thomas said.
"More than just being physically present in the classroom, it is also about personalising my teaching – knowing the students' names, their stories, empathising with the challenges they face learning a language and responding to their needs.
"These are not revolutionary techniques, but they make an important difference on an individual level."
Dr Thomas consistently receives feedback on the positive impact her teaching qualities have on her students' learning.
One such comment, submitted by one of her students for a 2016 teaching award nomination, read:
"In her classes, you never feel as if you are just another student… It is amazing how personally invested Bonnie is in each student and how much work she puts in to give them the best possible chance at succeeding."
The awards, administered by the Department of Education and Training, were presented at a ceremony held at Frasers in Kings Park.
Federal Minister for Education and Training, Simon Birmingham, said this year's citations again highlighted the capacity of the Australian higher education sector to produce individuals and teams who collaborate, innovate, and inspire students.
"On many occasions recently I have made mention of the world-class higher education system that we have in Australia, and its key role in education as our third largest export industry," Minister Birmingham said.
"I would like to congratulate all of those receiving citations this year and urge them to continue to inspire not only their students but fellow colleagues."
Dr Thomas teaches French language and literature from first year to honours level, and across several specialised areas including 20th century French intellectual thought, francophone literature, and Teaching French as a Foreign Language.
Media references
Alexandra Wingate (Faculty of Arts, Business, Law and Education)
(+61 8) 6488 5597
Tags
Channels

Awards and Prizes

Groups

Faculty of Arts, Business, Law and Education