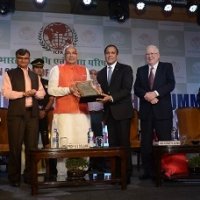 Tuesday, 3 October 2017
The University of Western Australia has a continual roll call of awards, scholarships and prizes presented to staff and students.
To recognise these achievements, a monthly article is published on the UWA news page on the website and in UWA Forward on the first week of every month. If you know of any great awards or achievements across the University please email [email protected]
Awards and achievements
Name: Hackett Professor of Agriculture Kadambot Siddique
Achievement: Professor Siddique, Director of The UWA Institute of Agriculture, has received the Global Research Leadership in Agriculture Award from the Indian Council of Food and Agriculture (ICFA) at the 10th Global Agriculture Leadership Summit held in New Delhi. The award recognises Professor Siddique's research that has made new inroads into developing dryland agriculture systems and increasing its production and increased gains to farmers.
Name: Doctor Judith Katzenellenbogen, Professor Sandra Thompson, Professor Michael Hobbs, Professor Matthew Knuiman, Professor Dawn Bessarab, Lyn Dimer, Dr Frank Sanfilippo, Emma Haynes, Dr Tiew Hwa Teng, Dr Derrick Lopez and Dr John Woods.
Achievement: UWA team from the Faculty of Health and Medical Sciences featured in the top 10 NHMRC 2016 projects.
Doctor Judith Katzenellenbogen and her team have been acknowledged in the NHMRC top 10 projects of 2016 for their study that set out to compare health outcomes of Aboriginal and non-Aboriginal Australians. They used linked health data to study Aboriginal heart disease, examining system issues that influence service delivery in order to build capacity in Aboriginal health. The analytic methods developed will assist in monitoring progress towards closing the gap in cardiovascular burden.
Name: Shuan Hern Lee
Achievement: UWA School of Music's youngest undergraduate student Shuan Hern Lee has won first prize in the 44th Palmadoro International Piano Competition in Finale Ligure, Italy. Shuan was the youngest in the competition, performing against graduate students and professional musicians from all over the world.
Name: Professor Stephen Hopper
Achievement: Professor Hopper has been presented with a prestigious Bragg membership by His Royal Highness Prince Andrew. The Bragg membership is the highest category of membership awarded by the Royal Institution of Australia and recognises excellence in scientific achievement and commitment to science communication. Professor Hopper leads a program on sustainable living with biodiversity at UWA's Albany campus. His focus is on old, climatically-buffered, infertile landscapes and on cross-cultural studies with Noongar people.
Name: UWA BPhil (Hons) graduate Alvin Djajadikerta
Achievement: Cambridge Australia Allen Scholarship
Mr Djajadikerta has been awarded a Cambridge Australia Allen Scholarship to undertake a PhD in Medical Science at the University of Cambridge later this year. At the University of Cambridge, his research will focus on the cell biology of neurodegenerative disease.
Name: Professor Stephen Powles, School of Agriculture and Environment
Achievement: Professor Powles has been awarded the 2018 American Chemical Society International Award for Research in Agrochemicals. Professor Powles earned the award through his long-standing research on identifying the role of cytochrome P450 enzymes in endowing herbicide resistance in plants. He is the first Australian ever to have received this award.
Congratulations to UWA staff and students.
Media references
Jess Reid (UWA Media and Public Relations Advisor)(+61 8) 6488 6876
Tags
Channels

Awards and Prizes — Media Statements — University News