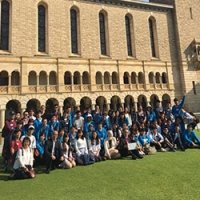 Tuesday, 3 October 2017
Two community engagement events have helped bring Japan closer to UWA.
Run by the University's Discipline of Asian Studies, the initiatives brought together students from UWA and other Western Australian universities, high school students, and students from Japan to share Japanese language and culture.
The first event was the Japanese Language Speech contest, which saw Japanese speakers of all abilities compete to win a place at the national contest in the eastern states next month. Two of the three places were won by UWA Japanese Studies students.
A week later, Asian Studies played host to a delegation of university students and youth from the Hyogo Floating University summer school program, based at Hyogo Prefecture in Japan.
Dr Kyoko Kawasaki, Lecturer in Asian Studies at UWA, said the activities helped strengthen UWA's international links.
"These were a really beneficial pair of events that not only helped boost engagement between UWA academics, students, and the wider community, but also with our peers in Japan," Dr Kawasaki said.
"As sister states, Hyogo and Western Australia have had close business, education, and community links for over 30 years, so it's really important to us to make sure UWA plays a role in continuing that relationship.
"It's also a wonderful opportunity for Hyogo and UWA students; they spent the day together exploring UWA's beautiful campus and doing some Perth sightseeing, and many of them decided to keep in touch on social media. It's these types of connections that help people excel in a language, giving students a direct connection with a different culture."
These events were supported by the Japan Foundation, the Japanese Consulate-General, and the Hyogo Prefectural Government Cultural Centre in Perth.
Media references
Alexandra Wingate (Faculty of Arts, Business, Law and Education)
(+61 8) 6488 5597
Tags
Channels

Events

Groups

Faculty of Arts, Business, Law and Education