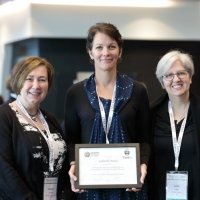 Monday, 28 August 2017
The University of Western Australia's Dr Gabrielle Brand was awarded the Flinders University ANZAHPE Award for Excellence in Health Professions Education for her research and innovative resource to support excellence in the delivery of patient-centred health care.
The award was presented to Dr Brand at the Australian and New Zealand Association for Health Professional Educators (ANZAHPE) Conference in Adelaide in July.
A narrative researcher within the UWA School of Allied Health, Dr Brand won the award for her design and development of Depth of Field: Exploring Ageing, an innovative, inter-professional, reflective learning resource for current and future health professionals.
The resource, which is currently being used as core curricula across the Australian and New Zealand higher education and health care sector, uses documentary style photographs and narrated film of older West Australians to stimulate in-depth discussion, examine unexplored stereotypes and challenge health professional students to widen their views around ageing and promote patient-centred care in preparation for their clinical placements.
"Through this style of learning, students are actively engaged in reflective processes that integrates cognitive and affective learning experiences," Dr Brand said.
"It encourages students to explore their own personal and professional values and beliefs, resulting in a deeper understanding of the older person."
Dr Brand has continued her research to further develop this educational resource with stroke patients from Bentley Stroke Rehabilitation Unit.
"The same application is used with photographs and narratives from stroke patients and their families to encourage students to consider new perspectives when engaging with patients who have experienced a stroke," Dr Brand said.
The new resource will be launched on 4 September as an art exhibition titled Depth of Field: Exploring Stroke Recovery. The exhibition showcases images by medical photographer Steve Wise, poetry by Susan Varga and stories of four WA stroke patients and their families as they recount the raw realities they faced while recovering from a stroke.
"This will be a great peer-to-peer teaching tool for new stroke patients and a powerful reflective learning tool to teach health professions students about what life is like following a stroke, from the patient's perspective."
"With an ageing population and complex health care systems, we need to prepare future health professionals to adopt positive approaches to older age and illness, including practising humanistic models of care," Dr Brand said.
Dr Brand is currently seeking funding opportunities for the next Depth of Field project which she hopes will focus on mental health.
The Depth of Field: Exploring Stroke Recovery exhibition is open to the public 11am – 5pm until 9 September at the Lawrence Wilson Art Gallery.
Photo caption (L-R): Monica Moran Associate Professor of Rural Health, Dr Julie Ash Flinders university and Co-convenor of ANZAPHE 2017.
Media references
Dr Gabrielle Brand (UWA Health Professions Education) ( +61 8) 6488 6893
Emily Stone (UWA Faculty of Health and Medical Sciences) (+61 8) 6457 7365
Tags
Groups

Faculty of Health and Medical Sciences