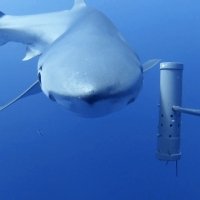 Friday, 25 August 2017
Research carried out by scientists from The University of Western Australia has found that underwater canyons may be critical and overlooked habitats for many commercially valuable species of fish such as tuna, swordfish and mackerel.
The study, published today in the journal Global Ecology and Biogeography is a collaboration between UWA's Marine Futures group, Geoscience Australia, Queensland University of Technology, The University of Tasmania, and the Zoological Society of London.
The researchers used a decade of historical fishing records from the Sea Around Us to map out the likely location of migratory fish hotspots around WA, from the remote Kimberley in the north to the Great Australian Bight in the south.
Lead author Dr Phil Bouchet, from UWA's School of Biological Sciences, said the study was the first to show the importance of underwater canyons for large ocean creatures other than whales, dolphins and seabirds.
"Underwater canyons have long been known to have a large variety of marine life, but until now there had been little evidence that this included large-bodied migratory fish," Dr Bouchet said.
"The data from the Sea Around gave us a unique opportunity to explore how these fish vary in numbers across ocean habitats on a state-wide scale that would not have been possible through any other methods".
The Sea Around Us is an international research initiative born out of the University of British Columbia, Canada, and is designed to document and quantify the impact of global fisheries on marine ecosystems.
"We identified the Argo-Rowley, Ningaloo, Perth, Bremer and Albany canyons, among other sites, as having an abundance of fish. Discovering this will give us a foundation to consider appropriate protection measures in the vast and deep waters surrounding WA," Dr Bouchet said.
Co-author Professor Jessica Meeuwig said the work, funded by the Australian Government's National Environmental Research Program , had a broad significance for marine conservation.
"Prominent seabed features like canyons are static and well charted in Australia. If we can demonstrate that they reliably attract ocean wildlife, we can then use them as a blueprint for supporting spatial management efforts like the designation and placement of marine reserves," Professor Meeuwig said.
The study also assessed how well fish hotspots are protected. "We compared fish hotspots with the national network of Commonwealth Marine Reserves and found that there was very little overlap between the two," Professor Meeuwig said. "This suggests that we are failing to protect a potentially critical part of our ocean heritage."
"What is also interesting from the study is that not all canyons provide favourable habitats for fish. The next step for us will be to determine why that is, and what conditions make some canyons more attractive than others. This will require finer-scale data, and we've already begun collecting useful information using underwater baited video cameras."
Video links
https://www.youtube.com/watch?v=TFoZcbMAHVc
https://www.youtube.com/watch?v=V1JLWs3JTcs
Media references
Dr Phil Bouchet (UWA School of Biological Sciences) (+61 8) 6488 3590
Jess Reid (UWA Media and PR Adviser) (+61 8) 6488 6876
Tags
Channels

Media Statements — University News

Groups

Central West — Central Wheat Belt — Gascoyne — Goldfields — Great Southern — Kimberley — Oceans Institute — Pilbara — Regions — Science Matters — South Coastal — South West