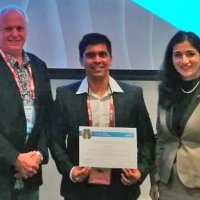 Tuesday, 22 August 2017
The Faculty of Engineering and Mathematical Sciences is celebrating the success of one its Mechanical Engineering students and Harry Perkins Researcher, Nikhilesh Bappoo, who has won first prize in the Mimics Innovation Award, Asia-Pacific Region, at the International Society of Biomechanics conference in Brisbane.
The award recognises researchers and their cutting-edge work supported by Mimics (Materialise), a medical engineering design software. Nikhilesh hopes to discover why some infants do not grow as well as others during development and how they might be programmed to develop disease later in life.
Using Mimics software, Nikhilesh visualised the structure of placentae before modelling blood flow through vessels.
"Currently, there is a lack of data capturing how blood flows within the placenta during pregnancy. This data may improve our understanding of placental function and pathology," said Nikhilesh.
"With collaborators from VascLab, UWA School of Human Sciences and the University of Edinburgh, we created a detailed and physiologically realistic computational model of a late pregnancy rat placenta.
"With this comprehensive 3D computational fluid dynamics model, we were able to investigate the influence of the blood consistency on wall shear stress (WSS), which could inform the development of  the placenta and hence the foetus."
Nikhilesh hopes that this model will advance the understanding of vascular physiology and remodelling in the feto-placental network, which will further our understanding of placental vascular structure and variation in function due to haemodynamics during pregnancy.
Media references
Lauren Humfrey (UWA Faculty of Engineering Mathematical Sciences) (+61 8) 6488 2260
Nikhilesh Bappoo (UWA Faculty of Engineering Mathematical Sciences) (+61) 406 659 568
Tags
Groups

Faculty of Engineering and Mathematical Sciences