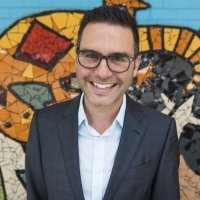 Thursday, 6 July 2017
He is the new guy in town, but not so new in the art space.
When The Perth International Arts Festival (PIAF) announced they were looking for an energetic, innovative and creative leader to further build the festival's success, they didn't need to look any further than Nathan Bennett.
Nathan, the new Executive Director of PIAF, has been making waves in the arts industry for over 15 years.
Energetic, passionate and with a fearless drive for making arts happen, he wants to bring the highest quality artistic experiences to the festival audiences.
He also has his eyes set on strengthening the long-founded and much-cherished ties between PIAF and UWA.
"The festival at its core is about challenging assumptions, sharing ideas, provoking conversations.
"The University does that really well, and in a sense, I'd like to maintain that notion while strengthening the unique relationship between the two," Nathan says.
Though he hails from Sydney, he's quickly been taken by the beauty of Perth's isolation and sees a unique artistic life in a city which, he says extends far beyond the festival.
"Isolation is an advantage, it makes you focus and think creatively. In a lot of ways, the Festival feels disproportionate in terms of the scale of it – same size as Sydney Festival - and you can feel the uniqueness of it being Western Australian – it's exciting," Nathan says.
Being Australia's longest-running international arts festival, it's the audiences, he says, that have made PIAF a unique premier cultural event.
"A huge part of those audiences are UWA staff, students and alumni who very much reflect the nature of that special festival relationship and proudly carry that ownership each year.
"The unique relationship between the University and PIAF is something special that needs to be celebrated," he says.
Prior to joining PIAF, Nathan was the Deputy Executive Director and Head of Development at Sydney's Belvoir St Theatre.
He's also held roles at Griffin Theatre Company, Bell Shakespeare and Philadelphia's Pig Iron Theatre Company in the US.
Despite having worked in theatre most of his career, he very much sees himself as a 'man with many spreadsheets'. Inspired by the artistic creation of ideas but working on the business side, Nathan has the task of ensuring the artistic and commercial aspects align to bring the festival to fruition.
It's not an easy task, he says, but it's one that drives his passion and leads to many people engaging, learning and enjoying new creative experiences every time they go to an arts event.
Without revealing too much of what's in the pipeline for PIAF's 2018 program, Nathan says audiences are in for an exhilarating opening performance.
"The festival itself sits within the context of 'place' and the community that inhabits that place. The next program will certainly reflect these themes," Nathan says.
With Nathan now being part of the Perth community, it couldn't be more fitting.
Tags
Channels

Arts and Culture

Groups

UWA Forward