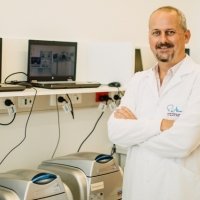 Monday, 3 July 2017
World-leading cancer research projects led by The University of Western Australia have today received a boost with $18 million in funding from the Cancer Research Trust and other partners.
The projects, led by Professor Christobel Saunders and Professor Alistair Forrest, span the spectrum of research that will have a direct and immediate impact on clinical outcomes through to world-leading research involving cutting-edge technology that will have a fundamental impact on early diagnosis and treatment of cancer.
Based at the UWA-affiliated Harry Perkins Institute of Medical Research, Professor Forrest is a world-leading genomics researcher who has assembled a strong team of researchers and clinicians from across Perth.
His team of scientists and medical practitioners from WA's major research institutions will use the grant to build a unique single-cell molecular atlas of hundreds of cancer samples donated by patients.
"To fight cancer we need to understand how it develops at the single cell level, which is now possible courtesy of major advances in technology," Professor Forrest said.
"Understanding which genes switch on and off in every cell within a tumour will enable better understanding, earlier detection and ultimately, help kill these cancer cells," he said.
Internationally recognised as one of Australia's most prominent cancer surgeons, Professor Saunders has also contributed to many clinical aspects of breast cancer research including clinical trials of new treatments and translational research that puts best evidence-based care into practice.
"Putting cancer patients first is my primary focus and this project will directly improve the lives of those diagnosed with cancer efficiently and effectively," Professor Saunders said.
The Continuous Improvement in Care–Cancer (CIC–Cancer) Project will implement an innovative program of research that places cancer patients first. The program involves consumers, clinicians, health services and researchers and will measure outcomes important to patients, generate and trial new interventions and implement findings rapidly.
"The data will help us work out where to best direct our scarce resources," Professor Saunders said.
"At a time when cancer care costs are escalating and the benefits to patients in terms of survival and quality of life are not always apparent, this project has the capacity to identify important deficits in care pathways."
The Cancer Research Trust funding of $13.5 million will be spread over nine years and an additional $4.5 million has been committed to the research teams by partner organisations including the Cancer Council WA, Telethon Kids Institute, Harry Perkins Institute of Medical Research UWA, Murdoch, Curtin and Notre Dame universities, the WA Department of Health and St John of God Healthcare.
Media references
Professor Christobel Saunders (Head, UWA School of Surgery)                                 (+61 8) 6151 1122
Professor Alistair Forrest (Senior Principal Research Fellow)                                 (+61 8) 6151 0780
David Stacey (UWA Media and PR Manager)                      (+61 8) 6488 3229 / (+61 4) 32 637 716
Tags
Channels

International — Media Statements — Research — University News

Groups

Faculty of Health and Medical Sciences