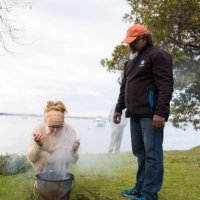 Monday, 3 July 2017
Students from universities around the world have today experienced a traditional smoking ceremony and welcome to country as part of NAIDOC Week celebrations at The University of Western Australia.
Noongar elders Doolan-Leisha Eatts and Walter McGuire performed the welcome to country and smoking ceremony on the Matilda Bay foreshore opposite the University Club before UWA Vice-Chancellor Professor Dawn Freshwater welcomed the international visitors to campus.
This year's NAIDOC Week coincides with the Matariki Indigenous Student Mobility Program which is being hosted by UWA's School of Indigenous Studies this month.
The Matariki Network of Universities is a collaboration of seven leading universities from around the globe committed to excellence in research, scholarship, education and community engagement.
The Matariki student exchange program began last year at Otago University in New Zealand, providing opportunities for students and staff to study local, regional and global topics concerning Indigenous people.
The 2017 program at UWA runs between 2 and 12 July and includes interactive presentations and forums on Indigenous history, human rights, place, language and protocols, health and wellbeing, arts and heritage, music and humour and conservation and land management.
Students and staff participating in this year's exchange program are from Queens University in Canada, Dartmouth College in the US, Durham University in the UK, Otago University in New Zealand and UWA.
UWA Vice-Chancellor Professor Dawn Freshwater aims to provide students with a world-class educational experience that engages with local, national and international communities.
"The University's strategic plan includes a commitment to the achievement of Aboriginal people's rights, aspirations and potential and the recognition of Indigenous knowledge, culture and values," Professor Freshwater said.
Media references
David Stacey (UWA Media and PR Manager)                  (+61 8) 6488 3229 / (+61 4) 32 637 716
Tags
Channels

Arts and Culture — Media Statements — Students — University News

Groups

School of Indigenous Studies