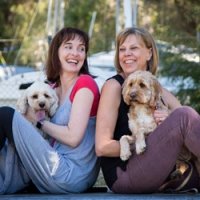 Tuesday, 20 June 2017
Researchers from The University of Western Australia have conducted the largest international study to be completed on the social benefits of pet ownership and found that owning a pet is not only important for our well-being but important for social connectedness in our neighbourhood.
Drawing from a sample of more than 2,500 pet and non-pet owners across three US cities (San Diego, Portland and Nashville) and one Australian city (Perth) the research reveals owning a pet, irrespective of the type of animal it is, is linked to increased perceptions of trust in the community and increased social capital (formation of strong networks and positive relationships between people).
UWA lead researcher Dr Lisa Wood said the notion that pets could help facilitate the 'glue' that holds communities together went far beyond the role of pets as a conversation starter or icebreaker.
"What we are interested in is the extent to which pets contribute to the social fabric of a community by forging connections and trust between people," Dr Wood said.
"In our increasingly busy and technology-dominated lives, people can often feel disconnected from their local community, and this can impact negatively on mental health.  But pets are a natural antidote to this, and can help strengthen the social fabric of our neighbourhoods."
In the study, the researchers measured differences in the level of social capital between pet and non-pet owners. Social capital was measured with questions about trust in others, whether people were willing to help one another or exchange favours, community involvement, and whether or not they had become friendly with people in their community.
"We found people who owned a pet had higher social capital than non-pet owners in all the cities studied, and this was not just limited to people who owned a dog, or who walked their dog in the neighbourhood," Dr Wood.
Dr Wood said overall, 60 per cent of those surveyed who owned a dog knew their neighbours better and 25 per cent of those who owned another type of pet knew their neighbours better.  "Our findings suggest that even incidental social interactions can contribute to enhanced social capital, as people are then less likely to feel that they live among total strangers," Dr Wood said.
The importance of pet ownership in bringing communities together and increasing perceptions of trust has important implications for town planners, local government and housing bodies.
"In Australia, pets have traditionally been more likely owned by people living in detached housing with backyards, with many apartments and retirement villages still defaulting to a 'no pets' policy," Dr Wood said.
"By contrast, in cities in Europe and the US with a longer history of higher density apartment-style living, pets are more readily accepted in residences of this type.
"Given ageing populations, housing affordability and the need to curb urban sprawl, notions of who can own a pet and where they can live needs to keep abreast of the times. The walkability of communities and the presence of parks and open spaces is also an important consideration for ensuring towns and cities are pet friendly."
The research conducted was funded by the WALTHAM Centre for Pet Nutrition.
Media references
Dr Lisa Wood ((UWA School of Population and Global Health/ Centre for Social Impact) (+61 8) 6488 7809
Jess Reid (UWA Media and Public Relations Adviser) (+61 8) 6488 6876
Tags
Channels

Media Statements — University News