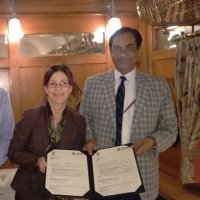 Monday, 19 June 2017
Screening of lentil genotypes by a global team, including researchers from The University of Western Australia has revealed some significant traits in lentils that will allow the important grain legume to endure increasing global temperatures.
Lentil is an important rotational grain legume crop, and is sensitive to higher temperatures during flowering and seed set. To find heat tolerant traits and its underlying mechanism, the team from Panjab University, Indian Council of Agriculture Research (ICAR) - Indian Institute of Pulse Research, Punjab Agricultural University, International Center for Agricultural Research in the Dry Areas (ICARDA), and UWA screened several lentil genotypes in the field and controlled environmental conditions.
The researchers exposed the lentil genotypes to heat stress during the reproductive stage, by sowing them in the field in normal conditions and also at higher temperatures in spring, two months later than the recommended sowing date. Five heat tolerant genotypes and five heat sensitive genotypes were then selected for further detailed studies to unravel the mechanisms related to heat tolerance.
Detailed studies on reproductive physiology and function revealed significant higher pollen germination, pollen viability, stigma function, ovule viability, pollen tube growth through the style and pod set in heat tolerant genotypes. Moreover, the heat tolerant genotypes produced more sucrose in their leaves and anthers than heat sensitive genotypes which was associated with superior reproductive function and nodulation.
Co-investigator Hackett Professor Kadambot Siddique, Director of The UWA Institute of Agriculture said heat and drought tolerance studies are becoming more important in crop plants for the development of climate ready varieties that can tolerate increasing temperatures and drought under the changing and variable climate.
"In recent years lentil has become an important rotational and cash crop in southern Australian farming systems. Australia is the second biggest exporter of lentils in the world after Canada. However recent heat waves in spring and associated yield losses have been a challenge for many lentil growers in Australia," Professor Siddique said.
"Our Indian partners together with ICARDA are currently using the heat tolerant lines identified in the study as parents in breeding programs to develop improved varieties of lentils with enhanced heat tolerance."
During the recent visit to India as part of the Group of Eight Universities delegation, UWA's Vice Chancellor Professor Dawn Freshwater signed a letter of intent and appreciation with ICAR to enhance ongoing  collaboration between UWA and ICAR in areas of research and postgraduate training.
The paper Identification of high-temperature tolerant lentil (Lens culinaris Medik.) genotypes through leaf and pollen traits was published in Frontiers in Plant Science and was supported by University Grants Commission India, Department of Science and Technology India, and ICARDA.
Media references
Hackett Professor Kadambot Siddique (The UWA Institute of Agriculture)  (+61 8) 6488 7012 / (+61 4) 11 155 396
Diana Boykett (Communications Officer, The UWA Institute of Agriculture)  (+61 8) 6488 3756 / (+61 4) 04 152 262
Tags
Channels

International — Research — Science

Groups

UWA Institute of Agriculture