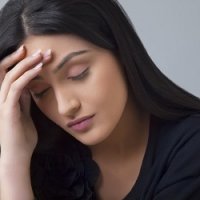 Monday, 5 June 2017
A project that aims to help people worry about the right things is one of three new projects at The University of Western Australia to receive Federal Government funding.
Professor Colin MacLeod, from UWA's School of Psychology, and his team will use a $2.3 million grant to study the individual cognitive differences between productive worry (such as concern about bushfires or personal health) and unproductive worry, with the goal of helping people ultimately focus what they worry about in ways that help them to take beneficial action.
The funding was announced by Federal Minister for Education and Training Senator Simon Birmingham, under the Australian Research Council's Laureate Fellowships and Future Fellowships schemes.
The researchers say there are two camps of 'worriers'- people who worry unproductively over things that are outside their control and those who instead worry selectively only about things they are able to control through action. For the former, worry severely compromises their emotional well-being without bringing situational benefit, whereas for the latter worrying can have it deliver practical advantages.
In high risk situations, those prone to worrying productively are more likely to adopt actions that can reduce the hazard, such as clearing gutters to protect against a bushfire. But those who worry unproductively, or who experience generally low levels of worry, are less likely to prepare effectively against such dangers.
Professor Colin MacLeod said worry was always a painful process that caused negative emotion, so it was understandable that many of us tried to avoid it.
"But when our well-being is threatened by genuine future danger, worry can become a key component of effective planning. In such situations, when worry triggers useful actions, its long-term benefit can outweigh its short-term cost," Professor MacLeod said.
"The challenge is to sustain an optimal balance between emotional and situational well-being, by worrying in ways that reduce genuine risk, without engaging in worry that produces no benefit."
The research project will deliver the capacity to assess, predict and explain individual differences in unproductive and productive worrying.
"Understanding the basis of productive worrying will help us enable people to respond optimally in situations where adaptive action can mitigate real-world risk," Professor MacLeod said.
Two additional UWA research projects have been awarded ARC funding in the latest round: Dr Kosala Ranathunge, from UWA's School of Biological Sciences, is addressing the issue of declining global food stocks, and will use a $757,000 grant to investigate ways to improve how efficient crops are at using phosphorous, which is a scare resource.
A grant of $880,000 was awarded to Dr Amir Karton from UWA's School of Chemistry and Biochemistry. Dr Karton and his team will explore how to make quantum chemistry more applicable to large molecules, allowing for unprecedented accurate predictions for large systems across the Periodic Table.
Media references
Jess Reid (UWA Media and Public Relations Advisor) (+61 8) 6488 6876
Tags
Channels

Awards and Prizes — International — Media Statements — Research — University News

Groups

Psychology — School of Molecular Sciences — Science Matters