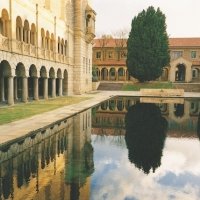 Monday, 22 May 2017
I am delighted to announce that Andrew and Nicola Forrest have today donated $65 million to the University which will be used to expand the Forrest Research Foundation.
The remarkable donation adds to the $65 million they pledged to the Foundation in 2013, and will result in the number of Forrest PhD scholars and postgraduate research fellows doubling from 30 to 60.
The Forrests have shown incredible foresight and generosity with these gifts and over time we will host hundreds of the best minds from around the globe. Importantly, many are likely to stay on after their PhDs and postdoctoral research and find solutions right here in WA, to global challenges.
This gift brings the Forrests' total contribution to the University's New Century Campaign to $130 million and has enabled the campaign to reach its target of $400 million dollars, seven months ahead of its four year schedule. Despite reaching the target, the New Century Campaign will continue through the rest of the year and fundraising efforts will focus on EZONE-UWA and increasing collaborative student spaces and student experience initiatives.
Yours sincerely,
Dawn Freshwater
Tags
Groups

UWA Forward