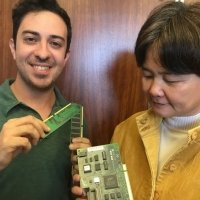 Thursday, 6 April 2017
In our fast-paced world where quicker computer search engine speeds are like gold, an international research team that includes UWA scientists has identified a way to analyse information quicker than ever before.
Quantum computing is expected to revolutionise the use of information technology and data because these computers can solve in minutes or hours problems that would take conventional computers centuries.
UWA School of Physics scientists Professor Jingbo Wang, PhD student Josh Izaac and collaborators from Southeast University in Nanjing have tapped the power of quantum computation in their quantum optics laboratory to help speed up search result ranking.
"To most of us, Google seems like magic," Mr Izaac said. "Yet, in the background, complex algorithms are churning away to determine which websites deserve to be at the top. For the first time, we have used the power of quantum computation to help rank search results."
Professor Wang said the latest breakthrough has the potential to perform extensive calculations that ranks information significantly faster than any silicon-based computer.
"Practical quantum algorithms have been developed to harness the power of electrons, photons, atoms, and molecules to perform information processing tasks involving enormously large amounts of data," she said.
"Scientists have already built primitive quantum devices that can perform basic calculations, but our research is taking us a step closer to solve real-life problems using quantum computing technology.
"For example, quantum computers will allow us to analyse the structure and dynamics of complex networks at the deepest level, which includes the Internet, Facebook, social networks, power grids, biological neural systems, transportation and communication networks."
While computers have been around since the first models built during World War II, quantum computing was first theorised just over 20 years ago.
Mr Izaac said every website on the internet was modelled as a 'node' on a network, with hyperlinks between sites becoming edges connecting nodes.
"In everyday life, you can only click on one link at a time – however in the quantum world, we can visit multiple nodes all at once," Mr Izaac said.
"This so-called 'quantum walk' can analyse networks much more efficiently and, as proof of principle, we have managed to successfully identify the most central node in a 4-node network in a quantum optics lab.
"Exploring this offers exciting prospects for science and practical applications in our advance towards realising the world's first quantum computer."
Media references
Professor Jingbo Wang (UWA School of Physics and Astrophysics)                          (+61 8) 6488 3790
David Stacey (UWA Media and Public Relations Manager)      (+61 8) 6488 3229 / (+61 4) 32 637 716
Tags
Channels

Media Statements — Research — University News

Groups

School of Physics — Science Matters