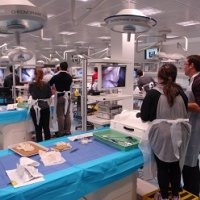 Tuesday, 21 March 2017
As we celebrate 60 years of medicine at UWA, we take a look at one Centre which is making a real difference to the healthcare professionals in WA and nationally.
"UWA is fortunate to have the only integrated medical and surgical simulation training facilities in the region. The Clinical Training and Evaluation Centre (CTEC) has trained over 30,000 doctors, nurses and healthcare professionals since it opened in 2000.
"This number alone shows the incredible impact the Centre has on the future of medicine in WA," CTEC Director, Professor Jeffrey Hamdorf.
UWA Doctor of Medicine and UWA Doctor of Podiatric Medicine students practice essential and cutting edge surgical skills in the main operating theatre which is complete with instrumentation, superior quality laparoscopic equipment for key-hole surgery, imaging technology and manikin trainers. Medical emergencies are simulated in the medical simulation area.
"Students also use this facility for learning theatre etiquette, examination skills and suturing skills under the supervision of consultants.
"No other medical school in Australia has access to a facility quite like this on its campus," says Professor Hamdorf.
CTEC also runs a robust program of practical post graduate level practical workshops for junior doctors, surgeons training for a career in surgery, consultants and Proceduralist General Practitioners and nurses.
"What makes CTEC particularly unique is the expertly skilled faculty staff that run the operating theatre lab environment and the medical instrumentation that provides a life-like clinical environment.
"We receive overwhelmingly positive feedback from students, the skills they gain through the Centre are essential to helping them in their careers," says Professor Hamdorf.
The cooperation and support of the Health Department of WA and industry has been pivotal to its success.
CTEC is running a tour of the facility for interested staff at 1-1.30pm Thursday 20th April 2017 .  Please register as places are limited.  CTEC is located inside Entrance No.2 Hackett Drive.
For further information contact Anna Gee CTEC Marketing Manager (x8144).
Tags
Groups

UWA Forward