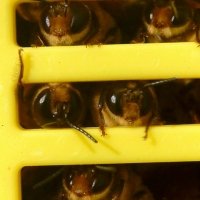 Friday, 17 March 2017
A new Cooperative Research Centre (CRC) led by The University of Western Australia will provide a much-needed boost to Australia's valuable, but largely untapped honey bee products, by bringing together both industry and academic expertise from across Australia.
Dr Liz Barbour, from UWA's Office of Research Enterprise, said the CRC for Honey Bee Products would resolve current industry problems that limited the value and expansion of the Australian honey bee products industry. Products include honey, beeswax, pollen, royal jelly, venom and honey bee export.
"At present, honey bee product value is estimated at $125 million," Dr Barbour said.
"What is often overlooked is that 44 of our food crops wholly or in part rely on honey bee pollination which adds an additional farm gate value of $6.5 billion. With the new Australian focus of fine food export, healthy bees are an essential ingredient for success."
"The low price of most honey bee products from Australia doesn't reflect their unique and pure qualities,"
"Australia, especially Western Australia, has one of the healthiest honey bee populations in the world so no antibiotics or chemicals from bee husbandry contaminate the products. Whilst Australia is surrounded by bee diseases, through our quarantine efforts, the worst (including the sucking mite, Varroa) have not yet reached our shores."
Bee disease is a big threat to Australia's agricultural production.
"If a major bee disease arrived in Australia, there would be a 26 per cent decline in national agricultural production, which equates to a consumer surplus loss of between $12.4 billion and $27.2 billion," Dr Barbour said.
Australia currently has 500,000 bee hives but needs 750,000 to qualify for pollination service security. Dr Barbour said the CRC for Honey Bee Products would provide pollination security by increasing the value of the industry to attract and train new professional beekeepers and increase the number of hives.
The marketing success of New Zealand's Manuka honey from a Leptospermum species is an approach that will be pursued within this CRC. Whilst New Zealand has one Leptospermum species, in Australia we have an additional 80 others. Already Dr Peter Brook's research team from the University of the Sunshine Coast, as part of a larger Rural Industries Research and Development Corporation project, has identified unique Australian Manuka honeys that will be further developed within this CRC. This, together with other Australian endemic flora, opens many opportunities to add value to the honey bee products, and create new hive sites.
"Honey bee product value and production is directly related to the quality and extent of hive sites," Dr Barbour said.
"Through gathering critical data, using GIS (a computer system used to capture and display data) and economic expertise, the CRC will value hive sites for both product quality and impact on bee health." This information will develop a 'bee credit' which in unison with the 'carbon credit' will give new found value to native bush sites and support their conservation.
"New product management systems from site to product, will equip a new era of high value beekeeping," Dr Barbour said.
The CRC will align with Australia's 'clean and green' marketing focus and will be supported by the development of a chain of custody from bush to product that becomes core to the training and education of stakeholders to protect the brand. Documentation of procedures together with nationally approved chemical and anti-microbial property analyses at critical stages will provide assurance of purity and product health activity.
Dr Barbour said honey bee disease-resistance is a complex issue.
"Claims have been made that Australia's honey bee population has little resistance to foreign diseases. If true, any disease invasion would be catastrophic," she said.
"The CRC will develop a research network with the US, China and Europe so that international research identifying bee disease genetic markers can be integrated into the Australian honey bee population. This together with providing bee health resilience will provide a bee disease insurance policy to address this major global threat to the industry."
Media references
Dr Liz Barbour (UWA Office of Research Enterprise)                                        (+61 8) 6488 8525
David Stacey (UWA Media Manager)                             (+61 8) 6488 3229 / (+61 4) 32 637 716
Tags
Channels

International — Media Statements — Research — Science — University News

Groups

Science Matters