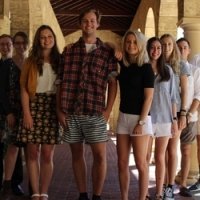 Wednesday, 22 February 2017
The University of Western Australia has welcomed its largest intake of students from rural Western Australia this year into its Faculty of Health and Medical Sciences which will help WA's rural doctor shortage.
A record 105 students from across the state, from Kununurra, Broome, Carnarvon and Tom Price in the north, the Wheatbelt towns of Bruce Rock, Cuballing, Merredin, Wickepin and Wubin, Kalgoorlie and Esperance in the Goldfields and many southern regional centres and towns, will study medicine as UWA celebrates the 60th anniversary of the Medical School.
UWA Professor Wendy Erber, Pro Vice-Chancellor and Executive Dean of the Faculty of Health and Medical Sciences said the rural doctor shortage was an increasing concern in WA with many remote towns needing access to more doctors to ensure a high standard of health in the community.
"This record intake of rural students at UWA is good news for WA as many of these students upon graduation are likely to become medical practitioners in remote areas," Professor Erber said.
Cameron McAlpine, 20, of Buntine is one of the new students. He said he was inspired by his great grandfather to pursue a career in medicine.
"My great grandfather 'Doctor Ryan' was a prominent doctor in the Pemberton area and did a lot for rural health," Mr McAlpine said.
"Still today I hear a lot of stories about all the things he did and how much of an impact he had on the community.
"I live in a farm just outside of Buntine and the closest place to go to the doctor is in Dalwallinu which is about a 45 minute drive. There's only one GP and you need to travel an hour to Moora to get to a bigger hospital.
"I'd like to make a difference to rural health in my career. I think there are a lot of issues that need to be tackled. With access to basic healthcare, especially as you go more rural and remote, people have larger trips to Perth. I think we need to be more inventive in ways that we can allow people to stay in their community and still get adequate health treatment."
UWA Rural Support Coordinator Sue Pougnault said it was pleasing to see so many students from small and remote towns who are passionate about making a difference to health in WA.
'We are looking forward to welcoming these students into a really exciting and rewarding teaching program, where they will learn about the latest advances in medicine," Ms Pougnault said.
"Aside from helping the students in their fields, the program will also help increase the number of practitioners that are able to offer support in remote communities."
Many of the students in the 2017 intake will go on to participate in the very successful Rural Clinical School of WA (RCSWA).  This clinical placement training program funded by the Commonwealth gives students the opportunity to train in the country for a year resulting in more rural doctors.
Media references
Sue Pougnault (UWA Faculty of Health and Medical Sciences) (+61 8) 6488 4851 / (+61 4) 19 174 860
Jess Reid (UWA Media and Public Relations Adviser) (+61 8) 6488 6876
Tags
Channels

Students — University News

Groups

EdCentre — Faculty of Health and Medical Sciences — Graduate School of Education — Humanities — School of Medicine and Pharmacology