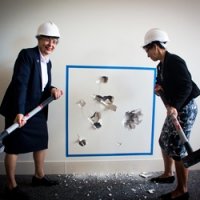 Tuesday, 21 February 2017
The University of Western Australia will celebrate 60 years of medical teaching and research excellence by investing $7 million in a new state-of-the-art teaching and learning facility.
The project will transform the UWA Medical and Dental Library at the Queen Elizabeth II Medical Centre into a modern, vibrant and dynamic learning space for students, graduates and the community – including high school students who aspire to be our doctors, medical professionals and researchers of tomorrow.
UWA Vice-Chancellor Dawn Freshwater said the upgrade is a timely and fitting tribute to the remarkable community support the University received back in the 1950s to establish the state's first medical school.
"This investment is our gift to the people of Western Australia who played such an important role in helping us create the State's first medical school at The University of Western Australia 60 years ago," Professor Freshwater said.
"The generosity of the general public back in the 1950s was astonishing. An average of 18 shillings was donated for every man, woman and child in the state to start WA's first medical school at UWA. That's about $250 in today's money, proof that at the time there was a desperate need to train doctors here in Perth," Professor Freshwater said.
Before the establishment of UWA's Medical School, aspiring young doctors had to relocate to the Eastern States or overseas for training. Many stayed where they had qualified, leaving WA's booming population with a shortage of doctors.
"With the backing of our community, we went on to create a world-class medical school which has produced a Nobel Prize winner, a countless number of outstanding researchers, teachers and graduates, and numerous medical breakthroughs that have helped save lives around the world. Our work is far from done. It's important to keep investing in new facilities to support the future needs of our own students, medical professionals, and the research pioneers of tomorrow," Professor Freshwater said
The project has been tailored to meet the changing working styles of students. There will be comfortable seating, less formal than a traditional library, and students will be able to study and work individually or in collaborative groups. The technology-rich library will feature collaborative and individual learning spaces, an e-learning suite, study booths that can be booked, comfortable work spaces that will accommodate laptops, notebooks and books, and quiet rooms. The lower level will have 24/7 access and there will be an exclusive Alumni Lounge - a collaboration space for UWA graduates. All of this alongside thousands of traditional journals and books.
UWA Professor Wendy Erber, Pro Vice-Chancellor and Executive Dean of the Faculty of Health and Medical Sciences, said the University is committed to creating the best environment in which our students, staff and graduates can continue to make discoveries that will change people's lives.
"The facility will create a state-of-the-art hub where researchers, students and medical practitioners can collaborate, expand their knowledge and enhance research and teaching excellence in Western Australia," Professor Erber said.
The library will be available to school groups and other members of the public. It's fitting that everyone should be welcome as it was the public's generosity that made all this possible in the first place."
The facility is expected to be completed and open later this year.
Media references
David Stacey (UWA Media and Public Relations Manager) (+61 8) 6488 3229/ (+61 4) 32 637 716
Tags
Channels

Media Statements — University News