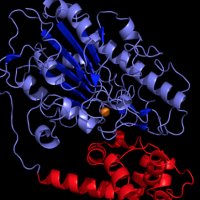 Wednesday, 15 February 2017
Today, the three-dimensional structure of the enzyme required for polymyxin resistance was published in the Proceedings of the National Academy of Sciences. This project was funded by an NHMRC grant awarded to Associate Professor Alice Vrielink (UWA), Dr Keith Stubbs (UWA), Dr Martin Scanlon (Monash Institute of Pharmaceutical Sciences (Monash University) and  Deputy Director Associate Professor Charlene Kahler at the Marshall Centre for Infectious Diseases.
"Antibiotic treatment of infections has served humanity very well over the past 50 years. However, we are now seeing a rise in antibiotic resistance in many microorganisms causing sepsis. Many of these microorganisms are resistant to polymyxin, the last line treatment option in these cases.
In this collaboration, Professor Alice Vrielink has solved the three-dimensional structure of the enzyme responsible for polymyxin resistance. "If we can better understand the function of this enzyme, we can be in a position to design drugs that inhibit its function and restore polymyxin sensitivity." said Dr Kahler. The project is currently ongoing with various teams working on this issue.
For more information, please refer to the ABC's news feed: https://www.abc.net.au/news/2017-02-15/antibiotic-resistant-superbug-discovery-at-university-of-wa/8270470?section=health
Media references
For more information, contact [email protected]
Tags
Groups

The Marshall Centre for Infectious Diseases Research and Training