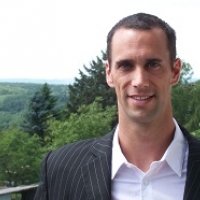 Thursday, 2 February 2017
For Dr Michael Jetter the opportunity to work at an established research-intensive University was the perfect motivation to move over 16,000 kilometres across the world.
Joining the UWA Business School 18 months ago, his role combines research and teaching activities on some of society's most critical issues such as corruption, terrorism and gender inequality.
Originally from Germany, Michael was in his home country last year when Bavaria was shaken by three violent incidents and he witnessed first-hand how subsequent media coverage played into the perpetrators' hands.
"It's an area I've become particularly interested in - how the media treats these kinds of attacks.
"The four major stations stopped their scheduled coverage to report on these incidents and ultimately speculated about ISIS involvement. At that early stage accurate details of the events were not known but the coverage was already creating an 'us versus them' polarisation which is precisely what terrorist organisations want."
Michael says that such coverage helps promote the goals of terrorist organisations, including the recruitment of new members and can also encourage copy-cat attacks.
"In the end I believe that media should look at how they cover these events. I'm not suggesting any restriction to press freedom, but events should be reported sensitively not sensationally, because the latter has serious repercussions.
"We're currently working on a systematic analysis of how the media covers terrorism, quantitatively and qualitatively. One focus there is to ask whether terrorist groups that identify with being motivated by Islam are covered differently. My hunch is yes, but we'd like to evaluate that in the data," he says.
Before his move to UWA, Michael spent four years at the Universidad EAFIT, a private university in Medellin, Colombia.
"I had some great opportunities there, and learnt Spanish which is something I'd always wanted to do, but it was time for a new challenge."
When the UWA Business School made him a job offer, the decision was easy.
"The opportunity to have greater research support and work in a large, globally-recognised University was exactly what I was looking for.
"What I really value about working here is the close-knit environment. We've got a small team so we all know each other, can discuss and share ideas and everyone's work is valued.
"I'd never actually visited Perth but from what I'd heard I was confident I'd like it, and I was right."
Tags
Groups

UWA Forward