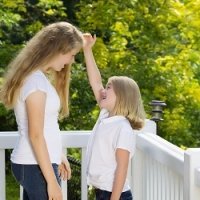 Thursday, 2 February 2017
Researchers from The University of Western Australia have been involved in the largest ever international research collaboration to identify genes associated with height.

The research discovered 83 new genetic variations that control human height,  in a study that involved more than 300 researchers across five continents and 700,000 participants. The new genetic variants found in the study are rare but affect the height of a person 10 times more than variants previously associated with height. Some can influence adult height by more than two centimetres.
Three researchers from The University of Western Australia contributed to the study by analysing data collected from 1,494 people in Western Australia involved in the Raine Study. The famous Raine Study recruited  2900 pregnant women (prior to 18 weeks gestation) between 1989 and 1991, and their children have been documented over the past 26 years for the advancement of research.
UWA Associate Professor Craig Pennell from School of Women's and Infants' Health said that although it was well known that parents often have children of similar height (suggesting genetics is a large factor in determining an individual's height) it had been difficult to know which genes were responsible.
"Until now, we only understood about 23 per cent of the genetics of height," Professor Pennell said.
"However this research adds another four per cent. The most exciting part of this study is identifying three new genes associated with height, and 34 new regions in genes previously associated with height.
"It's important we study height because height is a human trait which is 80 percent heritable.  What we learn from studying height and where genetics play a very large role can then be translated to study the genetics of human disease."
"Our data provides strong evidence that rare genetic variants play a substantial role in regulating height – this has implications in the prediction of complex human disease such as diabetes, cancer, schizophrenia and cardiovascular disease.  This is also is important in a new era of precision medicine.
"By understanding what components are responsible for how humans grow will have a tremendous impact in helping us understand disease, work to develop treatments and cures and to work out which people may be at risk of developing particular diseases."
The Raine Study is a state-wide collaboration funded by UWA, Curtin University, Edith Cowan University, Murdoch University, University of Notre Dame along with The Telethon Kids Institute, Women and Infants Research Foundation, and the Raine Medical Research Foundation.
The research has been published today in Nature Paper
Media references
Associate Professor Craig Pennell (UWA School of Women's and Infants' Health) (+61 4) 21 941 570
Jess Reid (UWA Media and Public Relations Adviser) (+61 8) 6488 6876
Tags
Channels

International — Media Statements — Research — Science — University News

Groups

Faculty of Health and Medical Sciences