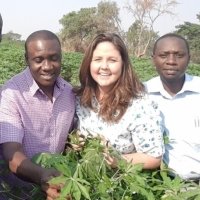 Wednesday, 11 January 2017
A research scientist from The University of Western Australia with a mission to increase food security in East Africa has been named the first Australian-based Senior TED Fellow in the history of the program.
Senior Research Fellow Dr Laura Boykin , from UWA's School of Chemistry and Biochemistry and the Australian Research Council's Centre of Excellence in Plant Energy Biology, has been appointed 2017 Senior TED Fellow, one of just 10 people selected worldwide.
Dr Boykin is working to save cassava, a food staple that feeds 500 million people in east Africa, from pests and disease. Smallholder farmers rely on cassava for their daily calorie intake but cassava crops are dying at alarming rates.
The Senior Fellowship will enable Dr Boykin to raise awareness of food security issues in sub-Saharan Africa and highlight how genomics and supercomputing are aiding research solutions for smallholder farmers.
Dr Boykin aims to help build capacity in genomics and super-computing by equipping African scientists with high-performance computing skills to tackle the devastating virus caused by the cassava whitefly and prevent future outbreaks.
TED or Technology Entertainment and Design is a non-profit organisation devoted to spreading ideas, usually in the form of short, powerful talks. It began in 1984 as a conference where Technology, Entertainment and Design converged and today covers everything from science to business and global issues.
The TED Senior Fellows program is an extended two-year Fellowship program in addition to the TED Fellows program, in which Dr Boykin was named in 2015 . Benefits of the TED Senior Fellowship include participation in four additional pre-conferences, attendance at four additional TED events, and the opportunity to deliver a TED Talk.
According to the TED organisation, Dr Boykin was chosen because of her "obvious passion and creativity she brings to her work as well as her continuous support of other Fellows – this has set her apart".
Dr Boykin works with collaborators from around the world including: Dr Monica Kehoe from DAFWA, Dr Joseph Ndunguru, Dr Peter Sseruwagi and Dr Fred Tairo from Mikocheni Agricultural Research Institute, Dr. Titus Alicai and Dr Chris Omongo from National Agricultural Research Organization, Uganda, Dr Elijah Ateka from JKUAT in Kenya and Professor Laura Kubatko from The Ohio State University.
"I have found a team of scientists that inspires me. These talented people make me want to be a better person," Dr Boykin said.
"I'm looking forward to raising more awareness for the poorest people on the planet, the smallholder farmer in East Africa."
More information can be found on the TED Fellows page and the TED 2017 conference website .
Media references
Dr Laura Boykin (+61) 437 298 544
Jess Reid (UWA Media and PR Adviser) (+61 8) 6488 6876
Tags
Channels

Appointments — Business and Industry — International — Media Statements — Research — University News

Groups

Business Briefing — Centre for Social Impact — School of Earth and Environment — School of Population Health — Science Matters — UWA Institute of Agriculture