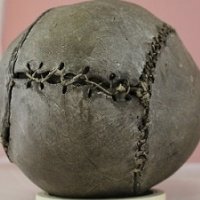 Wednesday, 7 December 2016
What would it feel like to 'play' with a 500-year-old football found in a Scottish castle? What about a 17th century amputation saw?
An innovative project being launched by the ARC Centre of Excellence for the History of Emotions (CHE) at The University of Western Australia will give researchers and the public the chance to experience fascinating museum objects in full-rotation 3D.
Emotions3D, an online collection of 3D digital replicas of artefacts from UK museums, brings rare and precious objects out of glass viewing cases or storage vaults and into the homes of anyone with a computer.
Medieval scholar and CHE Associate Investigator Dr Jane-Heloise Nancarrow led a team that included seven UWA academics to research, curate, annotate and document the collection, which aims to enhance public engagement with important cultural heritage objects.
"Many leading museums are digitising their collections, but it's not often in three dimensions, and periods such as the medieval era seem to have been overlooked," Dr Nancarrow said.
"This project aims to fill that gap, and help people understand the weird and wonderful world of the past in a fun and engaging way."
Drawn from Britain's Victoria and Albert Museum, the Stirling Smith Gallery and Museum, St Bart's Hospital Museum and Keats' House Museum, the 3D images are accompanied by text and annotations that tell the objects' unique emotional histories.
Dr Nancarrow, who is also co-founder of the AVRL Virtual Reality Lab at UWA, plans to take Emotions3D into schools next year, and possibly turn it into a complete virtual reality resource.
"There is so much scope for new technologies to change the way we interact with cultural heritage," she said.
Emotions3D launches on Thursday 8 December from 5.30-6.30pm at the Woolnough Lecture Theatre, Room 107, Geology and Geography Building, The University of Western Australia.
The event is free but registration is required – see here for more information.
Media references
David Stacey (UWA Media and Public Relations Manager)          (+61 8) 6488 3229 / (+61 4) 32 637 716
Tags
Channels

Arts and Culture — Media Statements — Science — University News