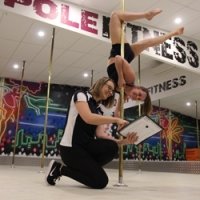 Thursday, 24 November 2016
A world first study conducted at The University of Western Australia is looking to uncover the physical and mental benefits of pole dancing.
Pole dancing as a form of exercise has grown in popularity over the past ten years with classes available to people of all ages, shapes and sizes.
Joanna Nicholas from the School of Sports Science, Exercise and Health said the study aims to look at the effect of regular pole dancing on muscle mass, body fat, fitness levels and mental health.
"It's a full body workout with particular focus on upper body strength, muscular endurance and flexibility. Pole dancing hasn't been studied before so we're measuring what changes happen over an eight week period," Ms Nicholas said.
"Pole dancing is a combination of dancing and exercise but has an important focus on achieving tasks. Those who attempt pole dancing are continually challenged to achieve more complex movements."
Preliminary results from a study analysing energy expenditure in a one hour session of pole dancing suggest that participants can burn approximately 1200 kilojoules in a 60 minute session, for a 65kg person this would be equivalent to a body pump class or a 25 minute run at 10 kph.
"There's a stigma attached to pole dancing but it does offer an amazing form of physical activity. Some classes are run in within fitness facilities so it's taking away from that stigma." Ms Nicholas said.
Pole dancing instructor Shavaya Huskinson said she enjoys watching the confidence of women grow from week to week.
"I love being in a room full of people and watching them go from being scared and intimidated at the start to being proud of the moves they are able to achieve and the strength they get at the end."
Ms Nicholas is now calling for female adults to take part in a research study looking at what effect eight weeks of pole dancing classes has on the body and mind.
Participants will undergo testing at UWA before enrolling in two pole dancing classes a week for eight weeks at a Perth based studio.
The study will be running from January to July 2017. To take part, email [email protected]
Media references
David Stacey (UWA Media and Public Relations Manager)        (+61 8) 6488 3229 / (+61 4) 32 637 716
Joanna Nicholas (School of Sports Science, Exercise and Health)                                (+614) 03 732 905
Tags
Channels

Media Statements — University News

Groups

Science Matters