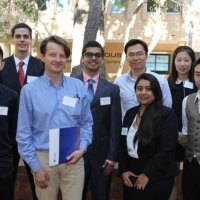 Wednesday, 16 November 2016
Faculty students from the Electrical & Electronic Engineering Design Project unit presented their exciting project ideas last week to fellow students, Faculty staff and industry mentors. The unit ran for seven groups of Master of Professional Engineering (MPE) students undertaking electrical and electronic engineering.
The unit is one of a range of industry engagements the Faculty has arranged to equip students studying the MPE to practice as a professional engineer, applying what they learn through practical projects.
Dr Sally Male, Unit Coordinator, undertook the research to develop best practice guidelines on industry engagement in engineering education, for a project led by the Australian Council of Engineering Deans in 2013 and 2014.
Engineering alumnus Conrad Drake was the SNC-Lavalin industry mentor, and provided client project management for one of the seven groups in this year's unit. Conrad provided students with a brief and mentored them through bi-weekly meetings. His guidance prepared his student group to select and design a CCTV surveillance camera installation for Matilda Bay foreshore in Crawley to be put forward for procurement tender, construction and commissioning.
The project aimed to give the students experience in elicitation, analysis & verification of requirements; understanding the applicable legal frameworks (including HSSE); and construction estimation. This allowed them to select between alternative design architectures based on a range of criteria and present their recommendations to a client.
Conrad said "The project is designed to give the undergraduates a view into engineering in the real world. This requires them to understand the clients' specific needs and constraints and then develop an appropriate solution to maximise client value, noting that the technology is only a small part of solution."
"SNC-Lavalin is proud to be supporting upcoming engineers and is committed to continuous learning. By taking part in projects such as this, SNC-Lavalin is contributing to initiatives that support professional development and educate the next generation of talent."
Dr Male believes the project has been extremely beneficial for students, saying "Partners from industry offer to supervise projects for students which is essential in providing them with authentic engineering design experiences. It was wonderful that SNC-Lavalin gave the students the experience of coming into the office every fortnight".
Media references
Lauren Humfrey (UWA Faculty of Engineering, Computing and Mathematics) (+61 8) 6488 2260
Tags
Channels

Business and Industry — Students — Teaching and Learning

Groups

Faculty of Engineering and Mathematical Sciences — School of Electrical, Electronic & Computer Engineering