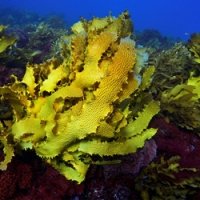 Tuesday, 15 November 2016
A new marine study bringing together half a century of data from around the globe indicates that almost 40 per cent of the world's vital kelp forests are in decline.
Associate Professor Thomas Wernberg from The University of Western Australia was a core member of the international team behind the global synthesis, published today in Proceedings of the National Academy of Sciences (PNAS).
Analysing kelp abundance from 1138 sites in 34 regions around the globe, the team discovered that more than a third of kelp forests had been in decline over the past half century.
Unfortunately, Australia features strongly among the regions with declining kelp forests.
"Tropical fishes, sea urchins, nutrient pollution and marine heatwaves have decimated kelp forests in New South Wales, Tasmania, South Australia and Western Australia but the causes have been different in different states," Associate Professor Wernberg said.
Like all marine ecosystems around the world, kelp forests – ecosystems that provide essential food and habitat to a wide diversity of species – are threatened by human activities.
Regions where declines were documented were often those experiencing multiple local and global stressors acting together to harm kelp forests.
"While global factors associated with climate change are affecting kelp forests, these effects vary by region depending on the kelp species, the local environmental conditions, and other sources of stress," Associate Professor Wernberg said.
"This highlights the need to understand the local context but also potential opportunities to manage kelp forest loss at a local level."
However, lead author Dr Kira Krumhansl from Simon Fraser University, said the worldwide study was not all bad news.
"There were also regions where kelps have increased (27 per cent) and others where no change was observed (35 per cent)," she said.
Despite amassing the most comprehensive database on kelp forests to date, the study also revealed that there was little or no data from many regions of the globe, a problem both for understanding how kelp forests around the planet have changed, and what trajectory they are on for the future.
This week UWA is hosting an international group of researchers, including several co-authors of the study, who will discuss the status of kelp forests across Australia, New Zealand and Africa.
Media references
Dr Thomas Wernberg (UWA School of Plant Biology)                                                    (+61 8) 6488 7204
David Stacey (UWA Media Manager)                                          (+61 8) 6488 3229 / (+61 4) 32 637 716
Tags
Channels

Media Statements — University News

Groups

Science Matters