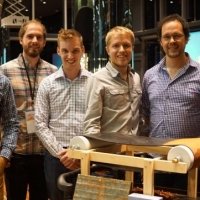 Friday, 30 September 2016
The University of Western Australia's Faculty of Engineering, Computing and Mathematics has announced a new partnership with entrepreneurial technology startup WearHawk as part of an initiative to foster new ways to engage with industry and accelerate innovation.
In return for creative work space in the Faculty's Engineering System Health Lab to develop and test their prototype products, the WearHawk team will encourage and support innovative student projects related to hardware and software development.
Comprised of an entrepreneurial group of former UWA engineering students, WearHawk hope to inspire students to consider startups and bring invaluable practical entrepreneurial experience to student teaching and learning.
WearHawk (at the time known as Conveyors of Wisdom) won the BHP Billiton MineHack competition in May 2016 with their product which can detect wear and damage to conveyor belts used in the resources industry. Along with automated warnings, health data and alerts, it will enable early action to be taken before costly failures occur.
Professor Melinda Hodkiewicz, BHP Billiton Research Fellow in Engineering for Remote Operations, said she was delighted by the partnership.
"The Engineering System Health Lab is excited to host this innovative graduate startup", said Professor Melinda Hodkiewicz.
One of WearHawk's founders, Linden Blair, who graduated from UWA as a Mechanical Engineer, said he looked forward to the benefits the partnership would bring to students.
"We hope to promote an innovation culture amongst students while engaging with the wealth of capability that exists at UWA", said Linden Blair. "There is enormous mutual value in this relationship and we look forward to developing it further."
The WearHawk team, BHP Billiton Fellow for Remote Operations, and UWA's Deputy Dean (Community and Engagement) plan to meet regularly to further develop the partnership.
Media references
Clara Dodman (UWA Faculty of Engineering, Computing and Mathematics) (+61 8) 6488 7501
Tags
Channels

Business and Industry

Groups

Faculty of Engineering and Mathematical Sciences