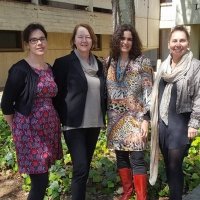 Tuesday, 13 September 2016
Penny Carruthers 'contribution to teaching has been recognised with a national citation from the Federal Education Department's Office of Learning and Teaching.
The Hon Simon Birmingham, Minister for Education and Training, announced Penny's citation last week for creating engaging, challenging, contemporary and inspirational learning environments and for supporting learning for all Law students by promoting broader student experiences.
A teacher in the Law School for nearly 30 years, Penny's passion for her students is one of her main motivations.
"I get so much from my students, I really appreciate the energy and enthusiasm they bring to the classroom. I hope to inspire them through my passion for teaching the law.
"I really enjoy creating challenging and inspirational learning environments. It's well known that learning is more effective when there's greater participation and it's just more fun that way too," Penny says.
In an age where technology rules, Penny says it's always good to remember the fundamentals when it comes to teaching.
"Technology and new approaches to learning definitely play a role in the classroom, but you should never forget the basics.
"Being prepared for class, providing students with good materials and being clear in the way you teach are essential building blocks," she says.
Penny is the latest Law School staff member to be nationally recognised for teaching, bringing the total to four.
Natalie Skead (2011), Ambelin Kwaymullina (2012) and Kate Offer (2015) are all previous recipients highlighting the Law School's exceptional quality of teaching.
"It is an outstanding achievement for the School to have four nationally cited staff, all of whom are still delivering excellence in teaching for our students," says Professor Erika Techera, Law School Dean.
"Providing an excellent learning experience and preparing our students to the best of our ability for the workplace is at the core of everything we do."
Top image pictured left to right: Kate Offer, Penny Carruthers, Ambelin Kwaymullina, Natalie Skead
Tags
Groups

Law — UWA Forward