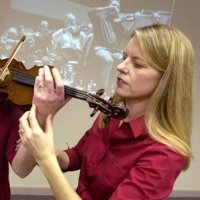 Friday, 9 September 2016
An online learning program to educate musicians about occupational health and optimising their performance through healthy practice has received funding to develop a commercial version for musicians and music schools around Australia.
Developed by Associate Professor Suzanne Wijsman, from UWA's School of Music and Dr Bronwen Ackermann, from the University of Sydney's Department of Biomedical Sciences " Sound Performers " is an online course to help musicians reach their full potential by gaining an understanding of how the body and mind work in practice and performance.
Associate Professor Wijsman said musicians' performance health was an important but neglected area of occupational health and safety in music teaching at all levels, in Australia and overseas.
"Musicians typically have very high injury rates and, as in sport, health education is the key to reversing this trend," she said.
"The development of our online learning resource addresses this need by offering music students, musicians, teachers and teaching institutions an adaptable course on performance health and optimisation that's been designed by experts.
"We know the demand is out there as we already have international clients lined up for the course, but we needed some support to take it to the next level so it can become more widely available."
The research project received funding through UWA's Pathfinder fund and USyd's Commercial Development & Industry Partnerships (CDIP) fund.
Associate Professor Wijsman said the funding would help expand the existing educational content, repackage the course for an international marketplace, and enable automated registration and payment access.
Sound Performers was originally funded by a Priority Projects Grant from the Federal Government's Office for Learning and Teaching (A Musicians' Health National Curriculum Initiative Project).
Media references
Associate Professor Suzanne Wijsman (+61 8) 6488 2061
avid Stacey (UWA Media and Public Relations Manager)      (+61 8) 6488 3229 / (+61 4) 32 637 716
Tags
Channels

Media Statements — Students — Teaching and Learning — University News

Groups

Arts — Music