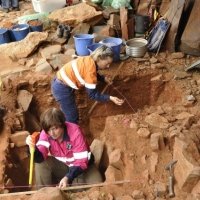 Monday, 5 September 2016
A team of researchers from The University of Western Australia which is exploring the mysteries of the National Heritage listed Dampier Archipelago in north west WA has uncovered evidence of one of Australia's most ancient settlements.
Director of UWA's Centre for Rock Art Research and Management, Professor Jo McDonald, said that although the research was in its early stages, the first rock shelter excavation in the area had uncovered evidence of Aboriginal occupation dating before and through the last ice age.
Professor McDonald is leading a 14 person UWA team funded by the Australian Research Council and Rio Tinto and working in collaboration with the Murujuga Aboriginal Corporation (MAC).  They aim to document the National Heritage values of the Archipelago and understand the earliest human uses of the area.
"Excavations on Rosemary Island, one of the outer islands, have uncovered evidence of one of the earliest known domestic structures in Australia, dated between 8000 and 9000 years ago," she said.
"This is an astounding find and has not only enormous scientific significance but will be of great benefit to Aboriginal communities in the area, enhancing their connections to their deep past and cultural heritage."
Known as Murujuga, the Archipelago in WA's Pilbara region is made up of 42 islands as well as reefs, shoals, channels and straits and is the traditional home of five Aboriginal language groups.
It was formed 7000 years ago when rising sea levels flooded what were once coastal plains. The underlying rocks are among the oldest on earth, formed in the 'Archaean' period more than 2400 million years ago.
Professor McDonald said for the site to gain a World Heritage listing, her team needed to learn more about deep-time archaeology, the contemporary cultural values of Aboriginal people and to understand how they managed their cultural sites across the string of islands.
"As well as containing more than one million rock engravings of great scientific and cultural significance, the Archipelago is home to one of the country's largest industrial ports," she said.
"This industrial landscape includes multiple industry stakeholders as well as five traditional owner groups represented by MAC.  Murujuga National Park is jointly managed by MAC and the Department of Parks and Wildlife of WA.
"Management authorities and community stakeholders will all be better informed about the scientific and cultural significance of the area following our study."
The researchers are using 3D model printing to assist in visualising the rock art which they said will provide an opportunity for elders to view it, many of whom are no longer physically able to visit the sites.
"We anticipate that this extraordinary rock art estate will produce some spectacular insights into what life was really like in deep history," Professor McDonald said.
"The impact on the broader community will be increased awareness through what we find across one of the most outstanding cultural sites in Australia."
Media references
Jo McDonald (UWA Centre for Rock Art Research and Management) (+61 8) 6488 4306
David Stacey (UWA Media and Public Relations Manager) (+61 8) 6488 3229 / (+61 4) 32 637 716
Tags
Channels

Media Statements — Research — University News

Groups

Science Matters