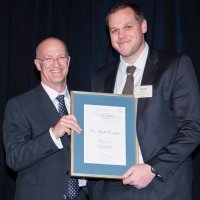 Friday, 19 August 2016
An internationally recognised offshore engineering researcher and a PhD student at UWA with a passion for improving the ear health of Indigenous children are among the winners of this year's Premier's Science Awards.

Dr Scott Draper, a senior lecturer in UWA's School of Civil, Environmental and Mining Engineering was named the Woodside Early Career Scientist of the Year while Christopher Brennan-Jones, a paediatric audiologist and PhD candidate at UWA's Ear Sciences Centre, was named Exxon Mobil Student Scientist of the Year.

Known around the world for his research in offshore fluid mechanics, Dr Draper has developed models to optimise the configuration of offshore wind and tidal turbines for renewable energy, predict seabed scour and estimate the stability of offshore structures in extreme wave conditions.

His research on marine renewable energy provided the first accurate assessment of marine renewable energy resources in the UK. Dr Draper has published more than 50 peer-reviewed papers across all fields of offshore fluid mechanics as well as working on multiple Australian Research Council projects and supervising award-winning PhD and Masters students.

Mr Brennan-Jones' PhD research focused on improving efficiency and access to ear and hearing healthcare services in Western Australia. He led an international consortium that assessed the reliability of automated hearing tests for use in the absence of specialists.

He discovered some common inconsistencies that, if not corrected, could result in missed diagnoses of middle ear disease or tumours. Building on this work, Mr Brennan-Jones has developed diagnostic protocols that can be applied to automated audiometry to correct these errors and is translating this research into practice by establishing an Indigenous ear health program in the East Pilbara.

The awards, a State Government initiative, were established in 2002 to honour the outstanding achievements of WA's science and innovation community.

The winners across four categories were announced at a ceremony last night as part of National Science Week, Australia's largest annual celebration of science.
Media references
David Stacey (UWA Media and PR Manager)                        (+61 8) 6488 3229 / (+61 4) 32 637 716
Tags
Channels

Alumni — Awards and Prizes — Business and Industry — Events — Media Statements — Research — Science — University News

Groups

The Engineering Essential — UWA Forward