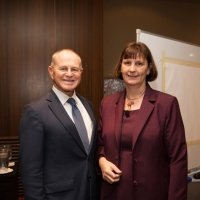 Monday, 1 August 2016
In Australia, the cost of workers' compensation claims for mental stressis $200 million per year. Further, PricewaterhouseCoopers estimates work stress costs the Australian economy at least $10.9 billion per year.
Now, UWA Business School management expert Professor Sharon Parker is launching a new centre that aims to create better jobs and healthier workers.
Addressing Perth's business leaders at a recent Breakfast by the Bay event, Professor Parker explained that jobs with good work design comprise: the autonomy to make decisions; tasks that are meaningful; support from your colleagues and boss; and challenging tasks yet a reasonable workload.
The Centre for Transformative Work Design , which will be based at the UWA Business School and is part of Professor Parker's Australian Research Council Laureate Fellowship , will assist organisations to create these meaningful jobs.
"The highest frequency of work stress claims come from the human services sector : police, prison officers, paramedics, social workers – key jobs in our society. On one level, this makes sense – these workers are exposed to traumatic events. And yet, only seven per cent of these' workers' compensation claims are related to such events. Most claims are actually due to poor work design: chronic time pressure, deadlines, constant restructuring, no support," Professor Parker said.
"Do we want those who do some of society's most important jobs to be so burnt out they are driven to suicide? Do we want work that is so micromanaged, so mind-numbingly tedious, that it accelerates the onset of dementia? Do we want some of the most talented people to have to forgo their work passions because the working hours are too long?
"Our vision for the Centre for Transformative Work Design is to proactively address these challenges: to achieve for all work that is healthy, that is productive, and that might – over the lifespan – even make us smarter."
Jobs for robots
Technology, Professor Parker told audience members, will also have a huge impact on how work is designed.
"One expert predicts that by 2020 an average desktop machine will have the same processing power as a human brain; by 2050, it will exceed the processing power of all humans on earth," Professor Parker said.
This will affect the way in which most of us work.
Imagine, for example, the field of medicine. In the future, technology will play a greater role in monitoring people's health, while patients will have access to a huge amount of data about health conditions, just by searching online. Telesurgery will be commonplace, and robots will dispense medicine.
So what will be the role for doctors? Professor Parker says jobs will need to be planned carefully.
"One crucial set of decisions of these work designers of the future will be: How do we choose who does which tasks? What should computers do and what should humans do? And how do we design work so that computers and machines support and empower human workers, rather than enslave them?" Professor Parker explained.
Creating the future
With one third of workers having passive, 'soul-destroying' jobs, another third of workers having 'cushy' jobs, and the remaining third having the active jobs (the best kind, according to Professor Parker), there are still many ways in which work design can be improved.
At the new Centre for Transformative Work Design, Professor Parker and her team will be working hard to help workers. After all, she says: "The best way to predict the future is to create it."
Media references
Verity Chia (UWA Business School)                                                    (+61 8) 6488 1346
Tags
Channels

Business and Industry — Events

Groups

eBiz