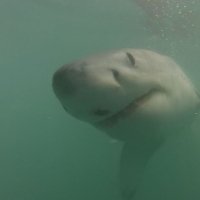 Monday, 4 July 2016
Shark researchers at The University of Western Australia have released the final test results of a study that examined the effectiveness of the Shark ShieldTM shark deterrent.
The study concluded that the Shark ShieldTM produced an effective deterrent field an average of 1.3 metres from the device's electrodes. It was found to prevent white sharks (Carcharodon carcharias) from interacting with a static bait 10 out of 10 times on their first approach.
It was only after subsequent approaches that the rate dropped slightly to 9 out of 10 times, showing signs of habituation to the Shark ShieldTM, which decreased the effectiveness of the deterrent field by an average of 12 centimetres per approach by the same shark.  However, despite an increase in tolerance, white sharks continued to be deterred from biting or interacting with the bait if an active Shark ShieldTM was present.
The research was made possible by a $220,573 grant from the WA State Government and represents the most robust analysis of the effectiveness of any shark deterrent, including the Shark ShieldTM.
Testing was carried out in Mossel Bay, South Africa in 2014. The research involved the deployment of custom-built Remote Monitoring Research Apparatus (ReMoRA) equipped with either an inactive (control) or an active Shark Shield. A total of 322 encounters were analysed from 41 individual white sharks from two to four metres in length.
UWA lead researcher Dr Ryan Kempster said that only one white shark interacted with the static bait in the presence of an active Shark ShieldTM, and this only occurred after multiple approaches to the device. "Although the effectiveness of the Shark ShieldTM likely varies between species, the fact that white sharks are implicated in the majority of fatal incidents globally suggests that a deterrent that effectively deters this species should be an important safety consideration for ocean users," Dr Kempster said.
"The research found no evidence that the Shark ShieldTM attracted sharks from a greater distance, which is a common sentiment shared by surfers, and showed that the Shark ShieldTM can reduce white shark interactions."
Professor Shaun Collin from UWA's Oceans Institute and the School of Animal Biology said the testing showed that the Shark ShieldTM could reduce white shark interactions.
"The research provides quantitative evidence of the effectiveness of the Shark Shield, its electric field characteristics and its influence on the behaviour of white sharks," Professor Collin said. "Our approach represents an accurate method for testing the effectiveness of shark deterrents that future research can adopt.
"It is important that robust scientific evaluation of these types of devices is carried out so that the public can make more informed decisions about how they can reduce their risk of encountering a shark.
"This device is no guarantee of 100 per cent protection from any species of shark but at present, but under the conditions under which we tested it, the Shark ShieldTM is the most effective shark deterrent device currently on the market."
The research paper involved scientists from UWA, Macquarie University, Flinders University and Oceans Research in South Africa and has been published in PLOS ONE
Media references
Jess Reid (A/UWA Media and Public Relations Manager)       (+61 8) 6488 6876 (+61 4) 13 105 200
Dr Ryan Kempster (UWA Oceans Institute Research Associate)
Professor Shaun Collin (Deputy Director of UWA Oceans Institute)                     (+61 8) 6488 8116
Tags
Channels

International — Research — Science — University News

Groups

Oceans Institute — School of Biological Sciences — Science Matters