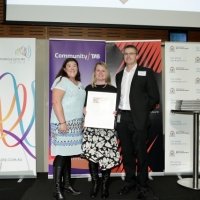 Wednesday, 29 June 2016
Pioneering research into understanding how to best manage green spaces using limited water allocations has been acknowledged for outstanding research achievement at the 2016 Parks and Leisure Australia WA Awards.

The 2016 Research Award went to The University of Western Australia's Water Allocation Project within the UWA Turf Research Program, led by Dr Louise Barton and Professor Tim Colmer from UWA's School of Plant Biology and Institute of Agriculture.
The research was funded by Horticulture Innovation Australia in partnership with the WA Turf Industry to develop innovative approaches to maintaining high quality turf on current, and possibly lower future water allocations.
The importance of sports turf for encouraging physical activity, and of well-maintained green spaces for mental health and well-being is well recognised. Turf managers are under continued pressure to restrict water use, while also maintaining high-quality surfaces.
Dr Barton, who received the award in person said Western Australia, like many other regions of the world, is experiencing a significant decrease in water resources due to the changing climate.
"Urban planners are being challenged to retain and improve public open spaces. This will become increasingly difficult in a drying climate," Dr Barton said.
"We worked directly with the turf industry to address their specific challenges for the benefit of our local communities."
The research findings were considered with an Industry Steering Committee to provide turf managers with the best guidelines to manage turf on a water allocation.
The Research Award acknowledges outstanding research achievement by a group or individual, which has made a significant contribution to the parks and leisure industry through expanded knowledge enhancement promoting the benefits or importance of the parks and leisure sector in Australian society.
The Water Allocation Project will now be considered for a National Award in October 2016.
Media references
Dr Louise Barton (School of Plant Biology and The UWA Institute of Agriculture)                               (+61 8) 6488 2543
Diana Boykett (Communications Officer, The UWA Institute of Agriculture)       (+61 8) 6488 3756 / (+61 4) 04 152 262
Tags
Channels

Awards and Prizes — Research — Science

Groups

Science Matters — UWA Institute of Agriculture