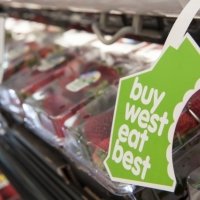 Tuesday, 28 June 2016
Western Australian consumers have a strong preference and willingness to pay for local foods according to a study published by researchers from The University of Western Australia.
This suggests that a state labelling program, such as the Buy West Eat Best campaign is extremely valuable to local producers.
Ms Emma Downsborough from UWA's School of Agriculture and Resource Economical and Institute of Agriculture conducted the study as part of her Bachelor of Science (Agricultural Science), and received first class honours for the research.
She surveyed almost 350 people online, asking them if they would prefer to buy fresh skinless chicken breasts and a fresh processed food (a fruit yoghurt) from Western Australia even if they had to pay more.
Dr Amin Mugera who supervised the research said the responses were heartening for WA producers because people were willing to pay more for local products not just because of its origin, but because of the quality associated with WA produce.
"The main driver for the high preference for local foods was freshness, quality and taste," Dr Mugera said.
"The study highlights the importance of successfully differentiating products through credible labelling schemes in order to capture market premium."
However, there is indication that some consumers are confused by different 'buy local' campaigns and therefore confused as to which brand names can be trusted to signify true local.
In order to create an effective brand to signify local, Dr Mugera suggested that the Buy West Eat Best logo should be supported by major retailers, and that an awareness campaign would raise credibility with the public.
The findings were published in the paper Consumer preference and willingness to pay for a local label attribute in Western Australian fresh and processed food products in the Journal of Food Products Marketing.
Media references
Dr Amin Mugera (School of Agriculture and Resource Economics and Institute of Agriculture)         (+61 8) 6488 3427
Diana Boykett (Communications Officer, The UWA Institute of Agriculture)      (+61 8) 6488 3756 / (+61 4) 04 152 262
Tags
Channels

Research — Science

Groups

Science Matters — UWA Institute of Agriculture — UWA School of Agriculture and Environment