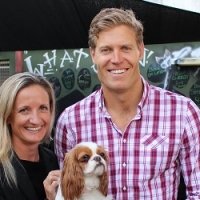 Thursday, 16 June 2016
The benefits of pet ownership in the community are well documented, but researcher Dr Hayley Christian from The University of Western Australia's School of Population Health says even more could be done to create pet friendly communities.
Speaking at the launch of #Keepauspetfriendly at Perth's Pet Lovers Café, a campaign initiated by Mars Petcare which aims to make Australia more pet friendly, Dr Christian gave an insight into the science and research behind the benefits of pet ownership for the wider community.
"Pets are important family members and the more time we spend with them the more health and social benefits we get," Dr Christian said.
"But often public places and cities are not as pet friendly as they could be and this needs to change.
"Our research here at UWA looks at how we can encourage people to be more active with their pets and embrace their benefits in the community."
Dr Christian said there were many documented benefits of keeping pets.
"Pets are great companions; they keep us active and enrich our lives. They are also great for children's development. Kids play with their pets, and it helps them to learn important life skills. And then there is evidence that pets help children build an immune response to bugs."
Dr Christian said it was important for councils, government bodies and groups in the community to come together to promote pet friendly spaces.
"With pets such an important part of our lives, it's important we integrate them in the community, rather than place restrictions that isolate people and make it harder for them to own pets and enjoy their benefits now and into the future," she said.
"Initiatives like Pet Lovers Café are fantastic because it's a place that allows pet owners, families and pets to come together in a friendly social setting.
"There is plenty of success in European countries with initiatives such as pet friendly transport, and accommodation, such as allowing the aging population to take their pets into aged care facilities.
"I'd like to see Australia develop more community and government initiatives to let us enjoy the benefits of pets."
Image caption: Dr Hayley Christian with Dr Chris Brown (Bondi Vet). Dr Brown fronts the #Keepauspetfriendly campaign for Mars Petcare.
Media references
Jess Reid (UWA Media and Public Relations Adviser)                                                         (+61 8) 6488 6876
Dr Hayley Christian (UWA School of Population Health)                                                (+61 8) 6488 8501
Tags
Channels

Research — University News

Groups

Faculty of Health and Medical Sciences — School of Population Health