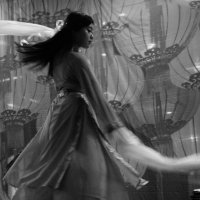 Friday, 3 June 2016
University Hall (UniHall) has never looked as beautiful and elegant as it did this Thursday night for the inaugural International Night. This year saw the Dining Hall transform into a Japanese themed three course buffet dinner with entertainment, red lanterns and glistening cherry blossom trees.
"International night is where everyone from such a diverse array of culture comes together as one. This is something that reminded me of home - which I absolutely enjoyed," says UniHall resident Dewi Ang.
The evening not only showcases the vibrant and dynamic community living at the Hall but allows residents to gain an insight and understanding into a whole variety of cultures.
Traditional Japanese drummers kicked off the night with rhythms and sounds to set the scene for the Parade of Nations. This is where UniHallers proudly carry their home country's flag across the main stage and around the room for all guests to see. Sian Brand was part of the organising committee for the night where her role was to organise this parade.
"Helping organise the parade of nations gave me the chance to meet a lot of students and to hear about their personal stories and even stories about their nations flag!" she says.
Another highlight of the night was of course the delicious traditional Japanese food. The entrees featured dishes such as teriyaki chicken sushi, salmon sashimi, edamame beans and then onto a main course of panko prawns, chicken karaage, yaki soba, beef katsu curry and teriyaki salmon. To finish off this lavish meal a dessert of melon sago custard, green tea ice cream and Japanese Sponge with ginger toffee sauce was served – what a meal!
International Night was not only for residents to enjoy as a cultural and social event but also an opportunity to gain leadership skills by becoming a committee member. Together a team of 16 students worked with the events team to create the concept, décor and logistics for the event.
"I give all praise and thanks to the team of amazing individuals, some of which were involved in the planning of International Night 2015. Their experience helped create the amazing decor and atmosphere on this night," Leader of the International Night Committee Daniel Ho.
Committee member Erin Oliver said in her opinion International night is one of the biggest nights at UniHall where there is so much more that goes into it than just renting a venue and hiring a DJ.
"It's an event to transform the Dining Hall into a whole new cultural wonderland. I really enjoyed being a part of that transformation and bringing another culture to the college for just one night," she says.
Thank you to our distinguished alumni guests, students and staff who attended and contributed in making such a memorable occasion for the UniHall community.
Media references
Kelly Sheppard, Marketing and Communications Officer, University Hall, 9273 3488
Tags
Channels

Students

Groups

University Hall