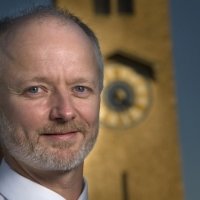 Monday, 16 May 2016
A scientist from The University of Western Australia has won a prestigious new international award for his outstanding contribution to the management of and improvement in quality of life for patients with red blood cell disorders.
Professor Tim St Pierre, from UWA's School of Physics, has been awarded the inaugural Panos Englezos Prize, jointly presented by the University of Nicosia Medical School and the Thalasseamia International Federation, based in Nicosia.

Professor St Pierre has spent more than 30 years researching the magnetic properties of iron in biology and medicine and is also chief scientific officer of Resonance Health Ltd, an Australian healthcare company spun out from UWA which specialises in the development and delivery of non-invasive medical imaging software and services.

He and his team developed the non-invasive liver iron measurement technology, FerriScan, which has already been used in more than 30,000 patients around the world.

In 2010, the Australian Academy of Technological Sciences and Engineering (ATSE) awarded him a Clunies Ross Award for his significant and positive influence on the lives of many Australians.

Resonance Health was named Western Australia's 2014 Innovator of the Year for its development of HepaFat-Scan, a non-invasive technology to enable MRI technology to measure the concentration of fat in the human liver.

In 2014, Professor St Pierre became an Institute of Electrical and Electronics Engineers Distinguished Lecturer, giving lectures worldwide on magnetic materials in medicine at academic and industrial research institutions.

The prize, to be awarded biennially, is named after Cypriot businessman Panos Englezos to honour his vast, lifelong and voluntary contribution to the Thalassemia International Federation, a non-profit organisation that supports patients and parents of children with haemoglobin disorders.
Media references
Professor Tim St Pierre (UWA School of Physics)                      (+61 8) 6488 2747
David Stacey (UWA Media and Public Relations Manager)    (+61 8) 6488 3229 / (+61 4) 32 637 716
Tags
Channels

Awards and Prizes — International — Media Statements — University News

Groups

Science Matters