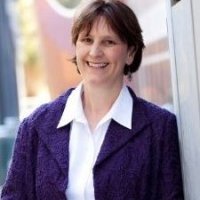 Friday, 6 May 2016
Pioneering research on the changing nature of 'work' has resulted in an Australian Laureate Fellowship being awarded to the University of Western Australia.
Professor Sharon Parker from the UWA Business School has been recognised with a prestigious Australian Research Council (ARC) Fellowship, announced in Canberra by Federal Minister for Education and Training Simon Birmingham.

One of the 16 Australian Laureate Fellows to be recognised in 2016, she was awarded $2.9 million, the single highest amount in this round, to continue her research into the way work is changing.

"The digital revolution means that not only are work processes being rapidly reconfigured and on a much larger scale than ever before seen but the demography of the workplace is shifting profoundly," she said.

"Work design is a crucial but neglected strategy for optimising health, for unleashing employee talent, and for creating agile and effective organisations."

UWA Deputy Vice-Chancellor (Research) Professor Robyn Owens said the University's new ARC Fellow was an outstanding researcher who continued to take an ambassadorial role in promoting women in research.

"The ARC Laureate scheme recognises the best research in Australia and from around the world and we all congratulate Professor Parker on receiving recognition for her innovative research in a field that touches upon many of us," Professor Owens said.

"This will not only provide a salary and research space but will provide five postdoc salaries as well as PhD students and research assistants – it will build significant capacity in this area of research, the discipline and the faculty more broadly.

"Hers was the only Laureate awarded in Western Australia in this round and Professor Parker also won the Kathleen Fitzpatrick Award which is aimed at mentoring women in the social sciences.

"UWA is delighted to join the government in backing world-class researchers and enabling them to mentor future knowledge leaders and innovators."

Professor Parker is the sixth researcher at UWA to win an ARC Laureate Fellowship.
Media references
David Stacey (UWA Media and Public Relations Manager) (+61 8) 6488 3229 / (+61 4) 32 637 716
Tags
Channels

Awards and Prizes — Business and Industry — Research — Science — University News

Groups

Institute of Advanced Studies