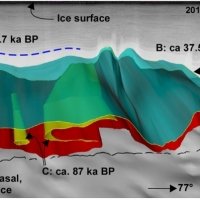 Thursday, 5 May 2016
An international leader in 3D geoscience from The University of Western Australia is among a team of scientists using high-tech, ice-penetrating radar data to successfully map the architecture of the Greenland ice sheet.

The findings, published in Nature Communications, have proposed a new model of fold formation in the massive ice sheet, the second-largest in the world, a discovery which will make it easier for scientists to understand future ice flows in glaciers.

Professor Mark Jessell, from UWA's School of Earth and Environment and Centre for Exploration Targeting, is part of an international consortium of geoscientists working in 3D geological modelling and geophysical inversion.

Professor Jessell said the new research provided a unique insight into the internal layering architecture of the ice sheet.

"The polar ice sheets of Greenland and Antarctica consist of layer upon layer of buried snow, compacted to ice, and have proven to be an invaluable source of climate data," he said.

"We used data from high-quality ice-penetrating radar to create a three-dimensional model of several distinct layers of the ice sheet.

"Our numerical modelling showed that rather than the layers directing the ice flow, it is in fact the micro-scale mechanical properties of the ice that is controlling the folding.

"In the simplest of terms, the ice crystals within the channel of ice become aligned during their compaction and flow and this controls their folding behaviour as the ice is channelled towards the glacier."

Professor Jessell said the Greenland ice sheet, a vast body of ice covering 1.7 million square kilometres and roughly 80 per cent of the surface of the island, represented an important climatological indicator and was critical to the future global climate.

It is estimated that if all Greenland's ice were to melt, global sea levels would rise seven metres.

"This new research will help scientists better understand the flow behaviour as ice flows off the ice caps and into the valleys, all of which contributes to our overall understanding of this complex but crucially important system," he said.

Professor Paul Bons from the University of Tuebingen in Germany led the research team.

Caption: 3D visualisation of folds in ice from the Petermann Glacier, Greenland, based on ice-penetrating radar data. The coloured layers reflect different ages of formation of the ice in thousands of years before present.
Media references
Professor Mark Jessell (UWA School of Earth and Environment) (+61 8) 6488 5803 / (+61 4) 28 082 004
David Stacey (UWA Media and Public Relations Manager) (+61 8) 6488 3229 / (+61 4) 32 637 716
Tags
Channels

International — Research — Science