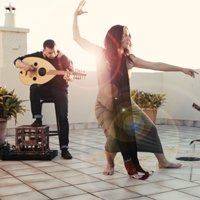 Thursday, 21 April 2016
An art exhibition starting next week at The University of Western Australia's Lawrence Wilson Art Gallery, will showcase nine Generation Y contemporary artists whose artwork reflects their experience growing up as a Muslim in Australia.
Running between Saturday 30 April and Saturday 16 July 2016, HERE&NOW16/GenYM is part of a series of annual exhibitions that presents the work of emerging curators and features the outstanding work of the artists.
The exhibition is the first of its kind in Australia and shows the maturing voices of Muslims who boldly and unapologetically speak their minds on topics spanning the philosophical to the political.
They come from a range of ethnicities and live all over Australia, from Lakemba to Footscray to Mount Lawley.
Exhibition curator Hamida Novakovich knows what it means to be young and Muslim in Australia today.
Growing up in Perth in a post 9/11, hyper-globalised world, the 30 year old said there was no doubt that 9/11 represented a turning point in the way Islam and Muslims were viewed in the world and for her generation, it was a lot to come to terms with at once.
"Muslims have constantly been called on to represent 'the collective' rather than themselves as individuals," she said. "I find that this also happens in the art world where artists may be defined as 'Islamic' or 'African' or whatever group they may belong to.
"With this exhibition, we want to present the stories of young Muslims whose identities are constantly unfolding, just like our Gen Y peers.
"There isn't just one Muslim experience, and this exhibition aims to make that point. "Challenging these assumptions has been the trend in international exhibitions with artists from similar backgrounds, but they have always come from Gen X, and of course dealt with themes of that era such as the Iranian Revolution and the rise of Arab dictators in a pre-9/11 world.
"HERE&NOW16/GenYM captures the multitude of experiences of growing up in Australia with Muslim and other cultural identities – experiences which have been greatly overlooked by narratives of otherness, orientalism, feminism, and Western ideas of Islamic art."
Media references
David Stacey (UWA Media and Public Relations Manager) (+61 8) 6488 3229 / (+61 4) 32 637 716
John McCarten (UWA Cultural Precinct Marketing Officer) (+61 4) 03 900 193
Tags
Channels

Media Statements — University News