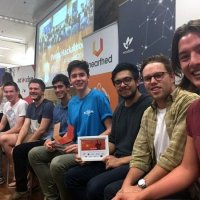 Monday, 18 April 2016
In an environment bursting with creativity and innovation, two teams from The University of Western Australia took out first and second place at the Unearthed Hackathon over the weekend.

Solving Woodside Energy's real-world challenges were first prize winners 'Fat Controllers' led by Bloom Lab's Mark Shelton, for their Vessel Optimisation solution, and the 'No Returns' team led by UWA Professor Melinda Hodkiewicz of the School of Mechanical and Chemical Engineering and BHP Fellow in Engineering for Remote Operations, who won the Young Innovator Award for their Returns Rationalisation prototype.

There were also great entries from the Computer Science team 'Floating Swan' for their Genetic Algorithm Scheduling and Packing algorithms, 'TriForce' for their Fitness to Work App and to a team of ECM Alumni for their DeStigma mental health program.

Energy and Minerals Director Mark Stickells congratulated all the teams claiming "This is the third Perth event that UWA has been involved with and its success makes me optimistic for our future."

The winning team 'Fat Controllers' comprised of students Mark Shelton, Ilyas Ridhuan, Dylan Johnston, Tom Smoker, Adrian Petersen, Alex Khor and Michael Ford, who are studying in the Faculty of Engineering, Computing and Mathematics. 'Fat Controller's' prototype optimised the packing and scheduling of cargo ships to service Woodside's offshore facilities.

This concept was realised by delaying ships until they were almost full, reducing the number of trips made by the cargo ships by one-third without dramatically affecting time to delivery – resulting in a large cost saving.

Mark Shelton from 'Fat Controllers' said that competing in Unearthed allowed his team members to apply what they had learnt in a range of disciplines at University, to real-world industry problems.

"The best part for me was the active debate - so many different ideas were floated, from abstract matrix algebra to complicated neural networks. We spent almost a full day discussing how to tackle the problem before we started coding," Mr Shelton said.

The team 'No Returns' comprised of five team members: Professor Melinda Hodkiewicz, Ashwin D'Cruz, Research Assistant in the System Health Lab, three students from ECM - Tom McKeon , Abdul Aziz and Rohan Mehra who is also a CEED student with BHP Billiton.

Professor Hodkiewicz said the Hackathons were an incredible catalyst for the future, providing real-world solutions.

"Our team developed the NoReturnsDT tool which is a SAP to screen solution to predict, in real-time, which parts will be returned in logistics supply chains. There are three parts to the tool: data parsing; analytics; and web visualisation. It would be used to support continuous improvements in logistics," she said.

As the biggest hackathon ever with 105 participants and 22 participating teams, Justin Strharsky from the Resource Innovation through Information Technology (RIIT) group said that the event builds a robust environment with budding opportunities for the future entrepreneurs of the state.

The next Unearthed MineHack runs from 13 to 15 May, at BHP Billiton, 125 St Georges Tce, Perth, WA.

Register here


Media references
Lauren Humfrey (UWA Faculty of Engineering, Computing and Mathematics) (+61 8) 6488 2260
Nicola Holman (Energy and Minerals Institute) (+61 8) 9263 9805
Tags
Groups

Faculty of Engineering and Mathematical Sciences