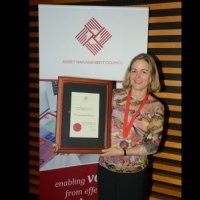 Friday, 15 April 2016
One of the world's leading engineering asset management experts, Professor Melinda Hodkiewicz, has been recognised for a lifetime of service to asset management by the Australian peak body.
Professor Hodkiewicz received this year's MESA Medal at the Asset Management Council's (AM Council) annual conference on Tuesday night, AMPEAK 2016. The MESA Medal is awarded for the contribution at the highest level to the advancement of asset management.
Professor John Dell, the Dean, Faculty of Engineering, Computing and Mathematics said Professor Hodkiewicz's award reflects her status as a leader in the industry.
"Professor Hodkiewicz's research explores important issues in asset maintenance and system health and how they connect to asset management strategy. This work is essential as industry looks to continuously improve the standard of asset management and share knowledge from experts around the world," he said.
According to AM Council's Chief Executive Officer, Dr Anne Gibbs, Melinda has a long history in the field of asset management and has been at the forefront of its development within Australia.
"The MESA Medal is awarded on the basis of substantive peer recognition of significant achievement, contribution and outstanding personal excellence in asset management exceeding 20 years.
Melinda is recognised on the world stage as a thought leader in asset management. As a prolific writer of papers and articles on the subject, she is extending the knowledge-base of the profession through research and development activities," said Dr Gibbs.
Melinda led the Standards Australia MB19 committee in their contribution to the creation of an international standard (ISO) for asset management (ISO 55000-2) in 2014.
"As Chair of program, Melinda effectively led the Australian team among 12 other countries and gained a good reputation within the International community," said Dr Gibbs.
Professor Hodkiewicz is also BHP Billiton Research Fellow in Engineering for Remote Operations (ERO) at The University of Western Australia, deepening links between UWA academics, BHP and industry more generally.
The Asset Management Council is a membership-based, not-for-profit organisation. At the forefront of asset management knowledge and development, they provide information and guidance on asset management across a multitude of industries and professional roles, both in Australia and overseas.
Media references
Mary Schultz (UWA Faculty of Engineering, Computing and Mathematics) (+61 8) 6488 1868
Tags
Groups

Faculty of Engineering and Mathematical Sciences