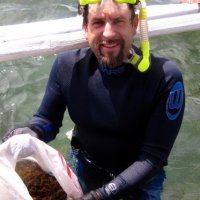 Wednesday, 24 February 2016
New research by scientists at The University of Western Australia, has revealed that seaweed farms may have unexpected benefits for coral reef fish.
There has long been concern that seaweed farms may damage coral reefs by shading them and through trampling associated with tending the plants.

However a new study by UWA PhD student James Hehre and Professor Jessica Meeuwig from UWA's Oceans Institute, published in the journal PLoS One, suggests that seaweed farms increase the food available to rabbitfish, which are commercially valuable.

Lead author James Hehre said the additional food may allow rabbitfish to grow faster, leading to higher catch rates.

"This is good news for impoverished fishers, and may also be good news for coral reefs, many of which are already highly degraded from land-based runoff and destructive fishing practices like dynamite fishing," Mr Hehre said.

"Rabbitfish play a vital role in keeping reefs clear of algae, which can smother coral and prevent growth.

"Our research suggests that seaweed farms may ultimately play a role in protecting degraded coral reefs," he said.

Co-author Professor Meeuwig said that previous studies had suggested that seaweed farms were uniformly bad news for coral reefs.

"This research suggests that seaweed farms may have a silver lining, increasing catches of species that play a key role in safeguarding threatened reefs," Professor Meeuwig said.

"Seaweed is farmed globally to produce carrageenan, a thickening agent used in everything from beer to day-to-day products such as toothpaste and lubricants.

"Seaweed production also provides a livelihood to millions of farmers, many of who fall well below global poverty standards."

Caption: James Hehre in the field as part of his seaweed farm research.
Media references
David Stacey (UWA Media and Public Relations Manager) (+61 8) 6488 3229 / (+61 4) 32 637 716
James Hehre (UWA PhD Student) (+61 4) 14 289 496
Professor Jessica Meeuwig (UWA Centre for Marine Futures) (+61 4) 00 024 999
Tags
Channels

Media Statements — Research — Science

Groups

Centre for Marine Futures — Centre of Excellence in Natural Resource Management — Oceans Institute — School of Earth and Environment — Science Matters